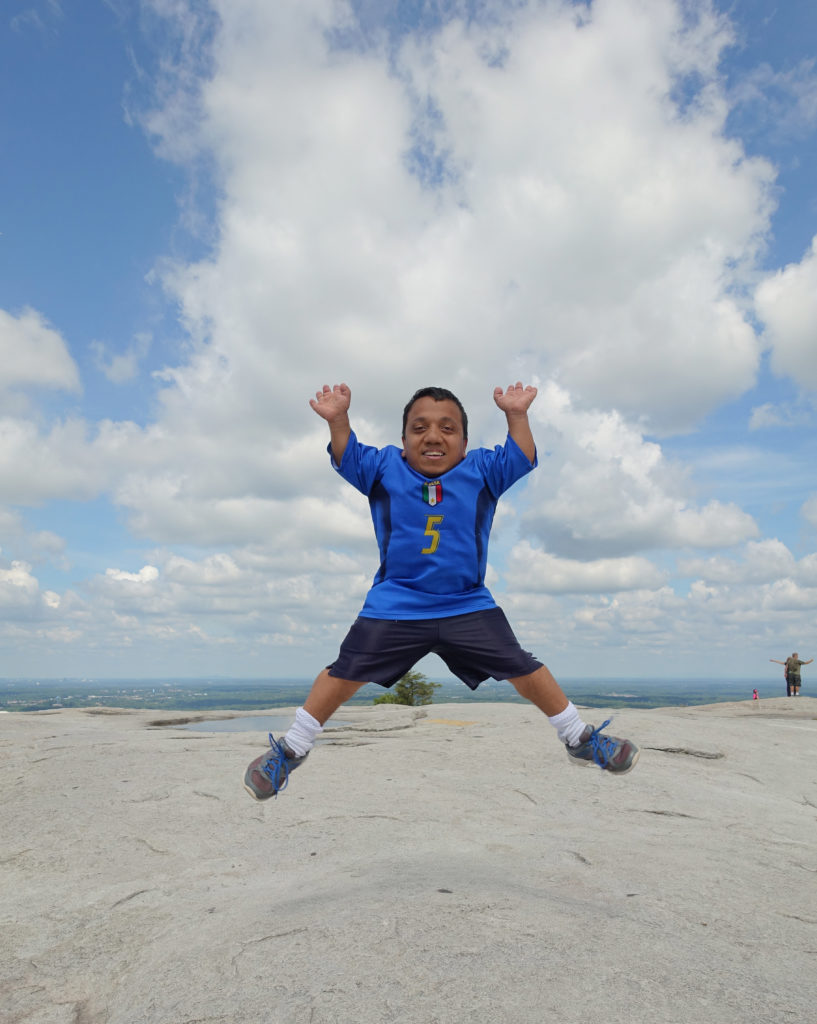 "What is that child doing walking alone?" I asked myself from on top of the mountain, my heart skipping a beat.
As I walked down to him I was simultaneously relieved and humbled to see that he was clearly an adult.
Murad is 3'6" tall and will celebrate his 38th birthday this weekend. He's about 70lbs, unless, like a lot of us, he's eaten a big steak or a lot of pizza the night before.
"Wow, I'm impressed!" I exclaimed, I admit partly out of nervous surprise, this being my first encounter with a little person on the mountain. "Little person" is among the accepted terms when referring to someone with dwarfism. But I was genuinely inspired to see that his size didn't stop him from climbing a mountain, just as I'm moved seeing overweight folks out there working hard without shame, and there was a man climbing today with a plugged tracheotomy hole.
From the moment I asked to take his picture, to when I showed him the geodetic marker at the center of the mountain to when we later parted ways, Murad was the epitome of warmth and openness and not in the least defensive about discussing his height (only "defensive" when talking about actually playing defense on his rec league soccer team or the jersey he was wearing in honor of his favorite, retired Italian soccer player, also a defender). I am 5' tall and self-consciously felt all of my 60 inches for all of about five minutes; the conversation flowed so easily and was so real. Even when (gasp!) I mistakenly asked him if he was Mexican. I myself am a good 17% Mexican/Native American and, well, I guessed wrong — I've always said that one the best things about the I Am the Mountain project is discovering how often I'm wrong about people — wrong about who I think they are —until I actually talk with them.
"You get them wrong before you meet them, while you're anticipating meeting them; you get them wrong while you're with them; and then you go home to tell somebody else about the meeting and you get them all wrong again. Since the same generally goes for them with you, the whole thing is really a dazzling illusion. ... The fact remains that getting people right is not what living is all about anyway. It's getting them wrong that is living, getting them wrong and wrong and wrong and then, on careful reconsideration, getting them wrong again. That's how we know we're alive: we're wrong. Maybe the best thing would be to forget being right or wrong about people and just go along for the ride. But if you can do that — well, lucky you."
― Philip Roth, American Pastoral
He and his very supportive parents and brother are of Pakistani descent. Murad didn't punish me with hostility or sarcasm for my mistake (nor for my overall curiosity), and as I filmed him saying "I am the mountain!" (in any language he liked — he chose both English and Urdu) for the video feature on the website, he graciously explained that his name means "wish, desire" in Arabic.
"Do you have a wish? Your birthday's this weekend! What are you going to wish for?"
"Wish that all of my other wishes come true!"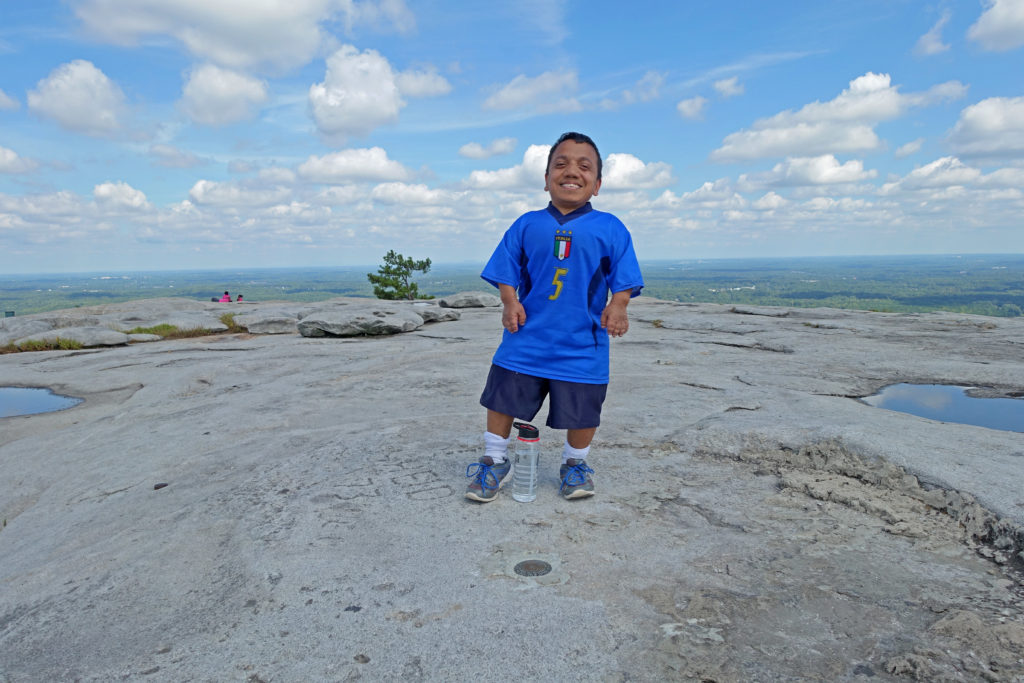 Conversation is not to be underestimated, and neither is Murad. He was born not far from Stone Mountain, in nearby Lilburn, GA, attended Parkview High School (his mother still works in the cafeteria in the Gwinnett County School system), went on to study computer engineering at Georgia Tech, and ascended the ranks at J.P. Morgan (yes, we joked about him "going as high as I could go"), where for the past 14 years, until several months ago, he was an investment banker. He's currently working out plans for a start-up during his period of unemployment but has also been able to take advantage of the opportunity to travel the world to places such as Italy, Greece, and Dubai, where he recently managed a basketball tournament (yep, he let me crack a joke about "little people" and basketball — stereotypes, be damned!). Travel is such good (and sort of free) therapy during a life change.
"So, what do you like to be called? I mean, is 'little person' the best thing, or dwarf?" I asked, full well knowing that "midget" is pejorative.
"Murad," he declared without any affectation.
"What about that show 'Little People, Big World' on TLC? What do you think about it?"
"Oh, that's all staged," he waved it off, and I turned the talk to whether he encounters problems being Muslim and being Pakistani in America (gosh, in the South), especially these days in the hateful climate Donald Trump has whipped up surrounding Muslims, immigrants, and refugees.
"I tell people I'm from Pakistan, and they sometimes give me that look. I'm like 'Well, I was born right here in Lilburn'." Turns out I'm not the only one that assumes Murad is Latino upon first glance. I gawkily said, "Well, I guess you don't exactly fit the profile (I'm not even sure anymore what that is)." Hardly a secret weapon on the soccer field either, we agreed. But it verged on painful to even joke about what it must be like to constantly be suspected of ties to terrorism simply for being Muslim, South Asian, or Middle Eastern. And, let's be perfectly honest, being Mexican in America is not exactly a cake walk right now either. The President of Mexico has compared Trump to Hitler and Mussolini.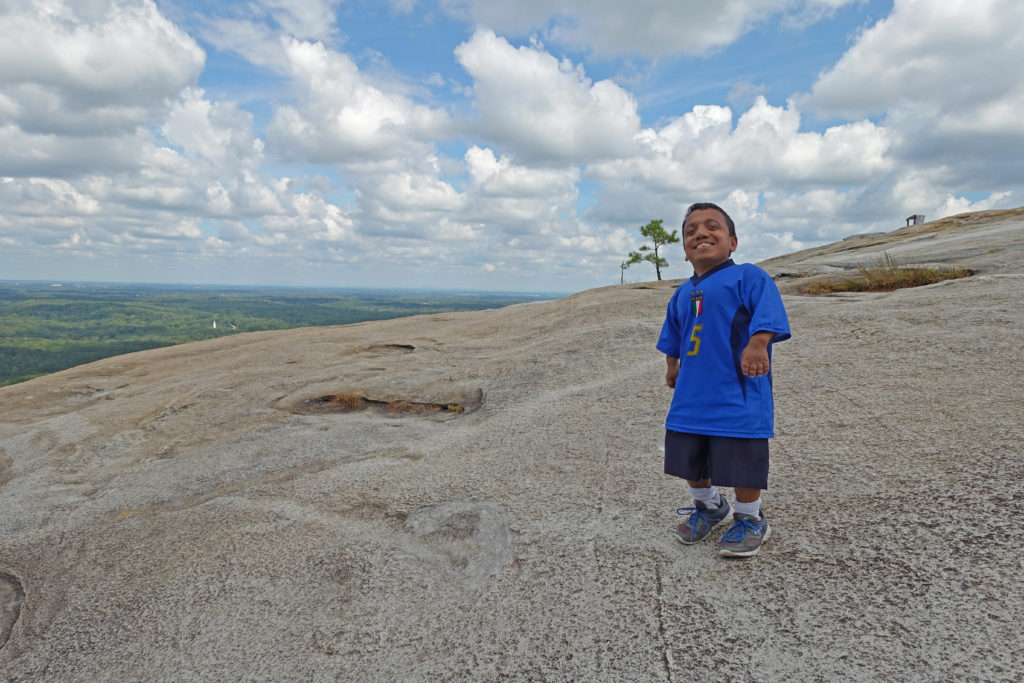 But even more than his race, religion, or stature, you want to know what is for Murad the hardest part of being 3'6"? That most human longing of them all: meeting someone. He's not opposed at all to a same-height relationship, but the ladies statistically seem to go for taller men. Being three fists high myself, most men are in fact taller, I teased. I assured him (and myself!) the best I could that a lot of people across the diverse spectrum of life still haven't found "the one" — for all sorts of reasons, regardless of whether it makes sense. As we chatted, people of all sorts and ages hiked past us, and many fixed their eyes on me and Murad. "If Murad can do it, anyone can!" I told the woman huffing and puffing at the handrails. The joy on people's faces when they saw Murad climbing the mountain was truly heart-warming. There's nothing disabled about him. And I repeated the mantra again to two young boys marveling at him as we descended. They were rightfully impressed.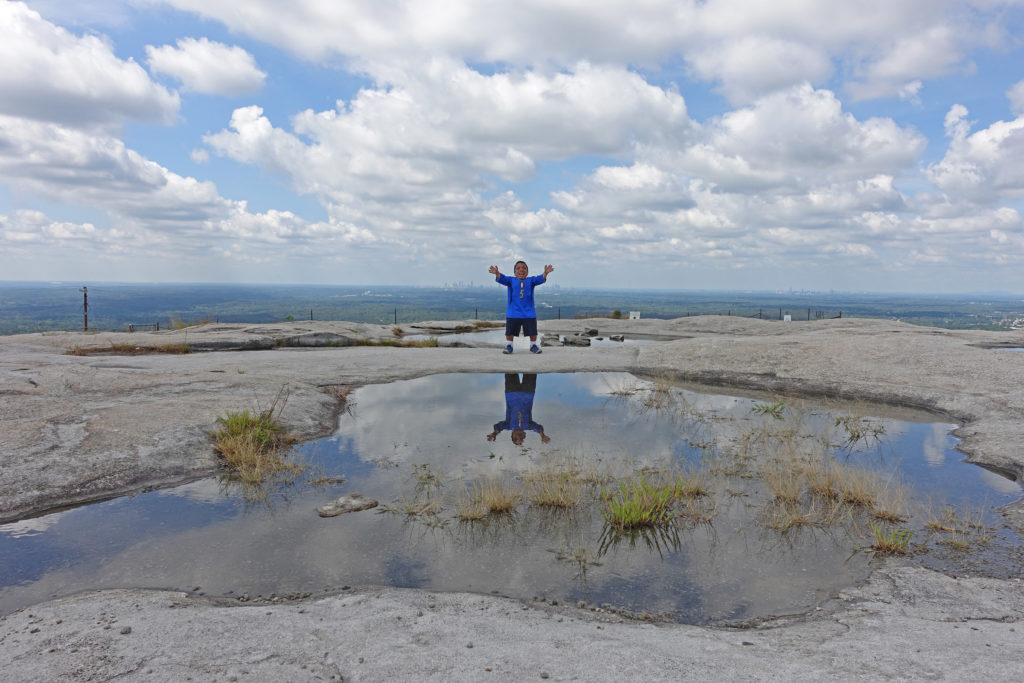 Back down in the parking lot, I assumed he was parked in one of the accessible spaces. Nope. Wrong again. He offered me a ride in his black Lexus, as I park outside of Stone Mountain Park, so as to avoid any of my money going to support the maintenance of Confederate monuments at the park, as they attract so many hateful white supremacists. I politely said I was okay to walk and told him again what a truly positive and inspirational experience it was to meet him. For emphasis, I recounted to him a recent and highly disturbing run-in with self-described racist alt-Republicans wearing Trump shirts on September 10, 2016 (very likely a publicity stunt by political operatives — more on these pathetic bozos soon: I HAVE VIDEO).
Meeting Murad was certainly a reminder that I have a choice (we all do) about where I place my focus and my energies, and celebrating the better parts of humanity, even in the face of great (and often vile) antagonism by it's most deplorable factions, is always an option.
Murad drove past me as I walked, and we smiled and waved again. I genuinely hope all of his wishes come true! It's no secret I have many wishes of my own for Stone Mountain.