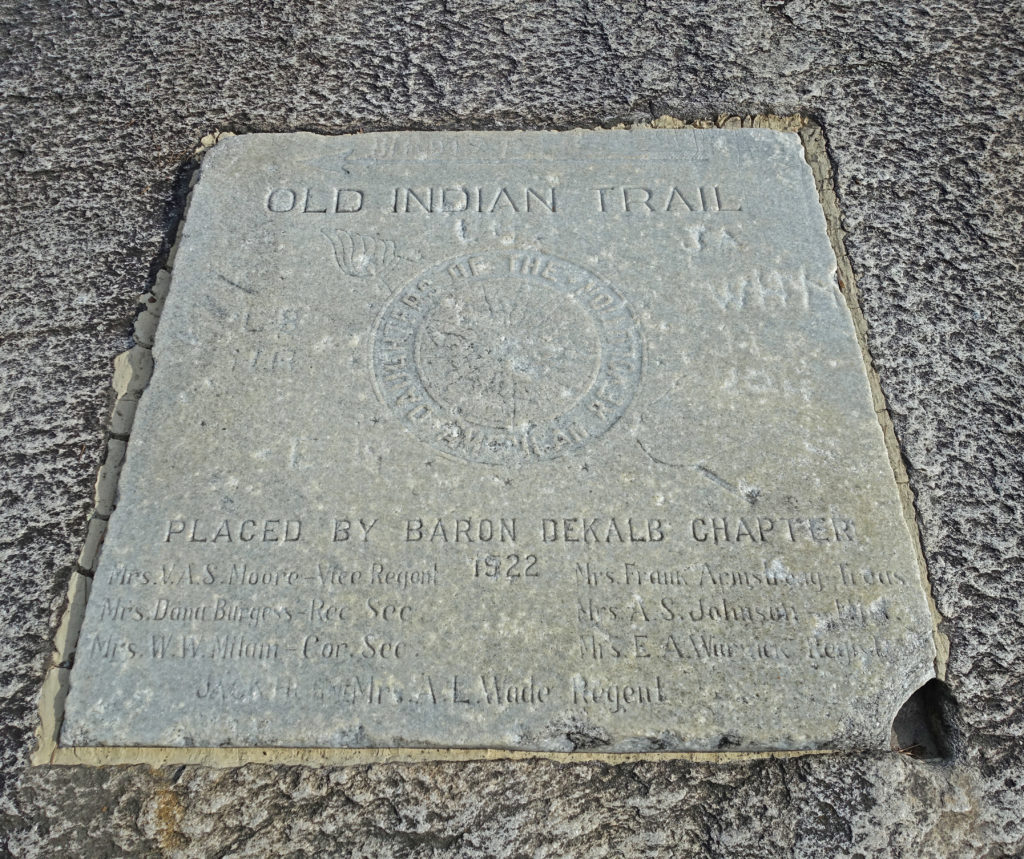 If you are at all considering attending the Indian Festival and Pow-Wow at Stone Mountain Park on November 3-6 and truly care about what is happening at Standing Rock Sioux Indian Reservation, then I urge you to please consider donating the $15 you might spend on this highly commercial event (in many ways the commodification of the Native American "experience") to the official Sacred Stone Camp. I posted on the park's Facebook page for the event: "Will any of your proceeds for this event (or Snow Mountain — an obscene waste of water in these times or any, especially during a drought) go towards truly helping and supporting Native Americans like the tribes at Standing Rock Sioux Indian Reservation to protect their lands and water right now in North Dakota? As Georgia's supposed #1 attraction, your responsibility to set a good example and make a difference is greater than the theme park's profits." I received several "likes" from people but no response from the park, and I went to see if my comment was still there but stopped scrolling when I couldn't find it easily.

Here's the thing. Stone Mountain Park lacks historical information, for starters, about the Mississippian Moundbuilders and Woodland Indians that once inhabited villages at the base of Stone Mountain. And about the very crucial meeting on top of the mountain between Creek Indian Chiefs and George Washington's emissary, Colonel Marinus Willets, which eventually resulted in the Creeks fatefully ceding all of their lands to the State of Georgia between 1790 and 1821 via the Treaty of New York and subsequent Treaty of Indian Springs. There is also little or no information around the park or on the mountain, aside from a marker denoting the Old Indian Trail placed before the park opened in 1923 (pictured above), about how the mountain was once a sacred throughway for Creek and Cherokee Indians or about the sacred ceremonies they held there. This information is not available at the Indian Pow-Wow either. It is truly unfortunate that really nothing was done to preserve or honor any vestiges of Native Americans' presence at the mountain before European settlers arrived in the area, the Industrial Revolution brought the railway, and quarrying and carving on the mountain first commenced, and Asa Candler had a vision for a theme park. Since it became a state-owned theme park in 1958, centered around a Confederate monument, it really could do so much better to present a fuller scope of the land's history and that of its varied first settlers.
Jamie Oxendine, 50, a part-time instructor at the University of Toledo and member of the Lumbee Tribe, regularly participates in the pow-wow at the mountain and feels the pow-wow is the park's way of honoring the Native Americans. On the surface that almost seems acceptable, but why charge people $15 to first get into the park and then another $15 admission into the pow-wow, when honoring Native Americans at the mountain and throughout the park should in fact be free year-round? Also, it is my understanding that the Native Americans that participate in the festival do not receive any of the proceeds either. Pow-wows happen across the country and maybe these other events should consider standing with Standing Rock. To be fair, I attended the festival in 2014 and greatly enjoyed the people I met (such as Jamie Oxendine, in fact, who I recognized walking down the mountain yesterday), their ornate costumes, the beautiful dancing, and various crafts and teepees on display and for sale (here are some photos from 2014). That does not change the fact that more should be done on an everyday, educational level at the park to honor the Native Americans who were first at Stone Mountain and their once (and always) sacred land.
Also, if you are at all considering attending Snow Mountain November 19, 2016 - February 26, 2016—or any such water park, ever—and truly care about what is happening at Standing Rock Indian Reservation (or Flint, MI for that matter!), then I urge you to please show your solidarity by donating the $28-$49.95 you might spend on an event that basically squanders millions of gallons of water (even if they do say it's recycled and comes from their own lake) to the official Sacred Stone Camp. Last year I wrote about Snow Mountain and the water crisis we all continue to face. The Great Sioux Nation with the Hunkpapa and Blackfeet bands over in Standing Rock are teaching us a powerful lesson right now about protecting all of our land and water. Will we listen? "Mni Wiconi, Water is Life".
Native American Dancers at Stone Mountain in 2014
"Upon suffering beyond suffering: the Red Nation shall rise again and it shall be a blessing for a sick world. A world filled with broken promises, selfishness and separations. A world longing for light again. I see a time of Seven Generations when all the colors of mankind will gather under the Sacred Tree of Life and the whole Earth will become one circle again." — Crazy Horse
In July 2015, I visited South Dakota for the first time and was deeply and forever moved by the Lakota Indians I met at the Pine Ridge Indian Reservation. It was an incredible experience, and I'm still processing it, and the momentous events at Standing Rock this year have me revisiting the experience a lot.
Here is Marcel Bull Bear speaking from the visitor center in Badlands National Park, a majority of which is located on the Pine Ridge Indian Reservation. He is a language teacher and instructor of tribal laws at Lakota Oglala College. He was on Spring Break with his grandchildren, who now live in Arizona, and volunteered to tell stories to anyone that wanted to listen. It didn't take long listening to him school us wasichus to be reminded just how much history is about storytelling, and how those without the power or means to write the story, or ever gain an audience to be heard, run a far greater risk of being forgotten, misrepresented, or left out of history altogether.
Driving along US16-E through the Black Hills of South Dakota last summer also elicited a distant memory from deep within the gray folds of my memory, as if tucked away for decades in its very own safety deposit box. Seemingly by virtue of my geography, I mysteriously recalled a small newspaper clip, about the size of a book of stamps, that had been enclosed in a handwritten letter from my dad in the early '90s, when I was in college. It was about Shannon County, South Dakota having the lowest literacy rate in the U.S. Something about my being an English major named Shannon made that worth sharing, I'm sure. He was a man fond of repeating the Infinite Monkey Theorem: "Given an infinite array of monkeys and an infinite array of typewriters, the monkeys will eventually write all the great books." But I had honestly never given Shannon County so much as another thought until that visit to South Dakota during the month the Lakotas call the Moon of Cherries Blackening.
There were no signs posted anywhere for Shannon County, by the way, because, as of May 2015, Shannon County is now Oglala Lakota County. I learned this that very night as I lay blissfully exhausted from the day's visions and explorations in a room in Rapid City searching Google. After 130 years, and 125 this year since the Massacre at Wounded Knee, the Lakota people no longer wished for their home to be named after a man, one Peter C. Shannon, a former chief justice of the Dakota Territorial Supreme Court from 1873-1881, who had played a major role in taking land from them. My search also turned up a March 25, 2015 TIME magazine article showing the deadliest cities in the U.S based on premature deaths before age 75. Guess which city had the highest mortality rate? Shannon County (TIME updated the county name from Shannon to Oglala Lakota County after the fact, I see).
Forget for a minute what Churchill said about history being written by the victors, for we all lose if that's truly the case. George Orwell said, "The most effective way to destroy people is to deny and obliterate their own understanding of their history."
Taking away and whittling down the land, language, and customs of entire cultures and communities comes to mind, as does the fractious, darkside of any diaspora.
Malcolm X knew: "History is a people's memory."
Mark Twain agreed: "The very ink with which history is written is merely fluid prejudice."
And Harlem Renaissance writer Dorothy West is on the books saying, "There is no life that does not contribute to history."
A professor once told me that all history, to a degree, is autobiographical (Churchill did also say history would be kind to him, since he intended to write it).
So, the way I see it, there's always room for more storytellers—an infinite array of storytellers—especially as we continue to sort out, reconcile, and grow from the past.
Ask Crazy Horse.
NOV15 Atlanta Day of Action to Stop the Dakota Access Pipeline
#NODAPL Protesters at CNN Center in Atlanta 11/15/16
#NODAPL Protesters at CNN Center in Atlanta 11/15/16
#NODAPL Protesters at Suntrust Plaza in Atlanta 11/15/16
#NODAPL Protesters at Suntrust Plaza in Atlanta 11/15/16
#NODAPL Protesters at Suntrust Plaza in Atlanta 11/15/16