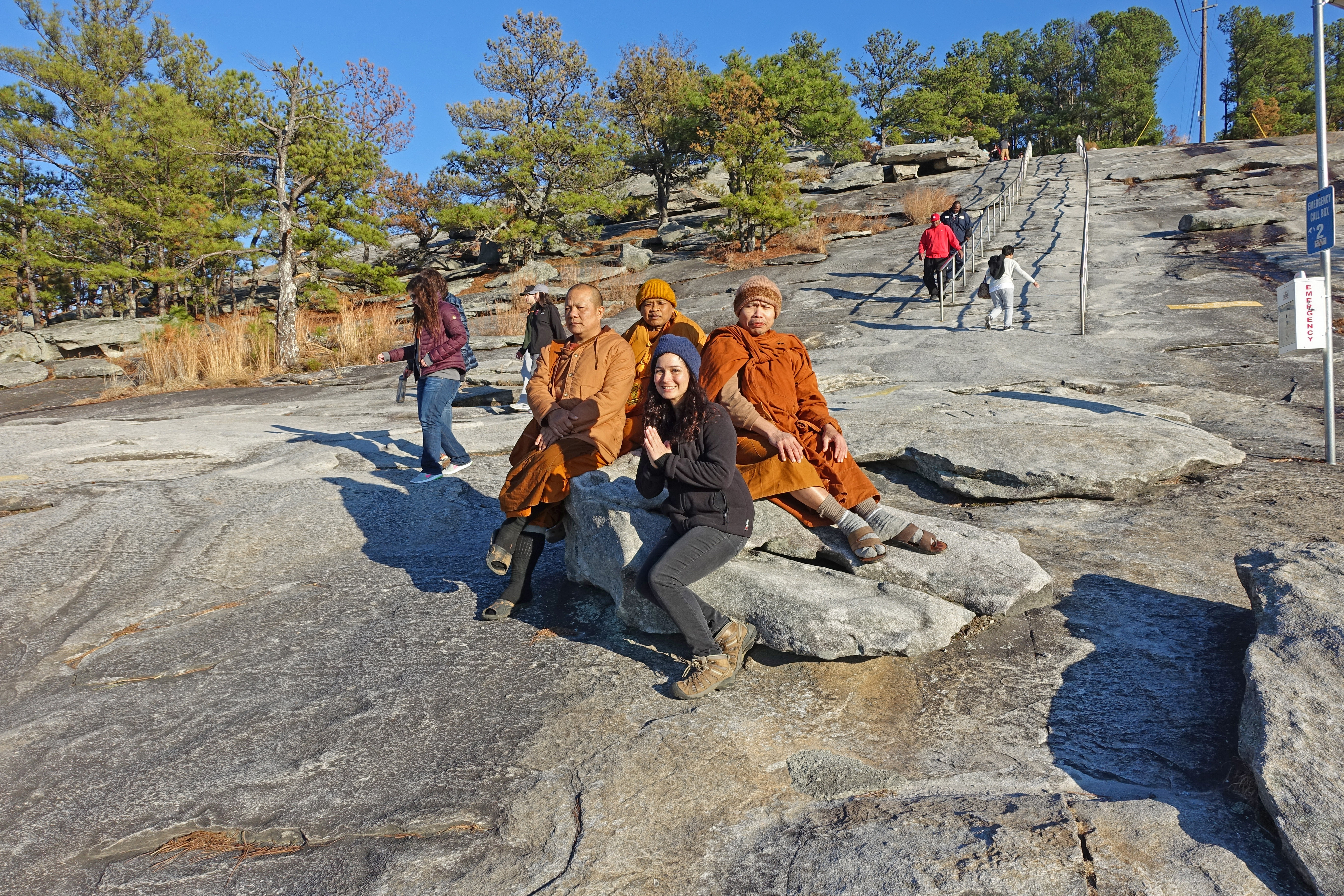 Thai monks from Wat Phramahajanaka, a Buddhist temple in Griffin, Georgia, visited Stone Mountain today. Their bright orange robes (worn by Theravada Buddhists) were the direct color complement of the crisp blue December sky. Monks seems to love Stone Mountain. Or is it that they love mountains? Rocks? Nature? All of the above! Just a guess, but I'm ruling out that the Confederate monument there has anything to with it. I actually meet Buddhist monks often at the mountain, and some of you know how excited I get to see them. Perhaps it's my awe and admiration for their dedication to practicing compassion and attaining truth and enlightenment. The same way I might admire my accountant doing my taxes, which aren't always easy to do myself.
On Thanksgiving, November 24, I climbed the mountain with my older brother, and we met Sri Lankan monks from the Buddhist temple in Lithonia, GA. It seemed silly to ask them why they like to climb the mountain, but one of them simply offered "for health." For me, being in nature certainly plays a big part in my health and makes me feel more whole.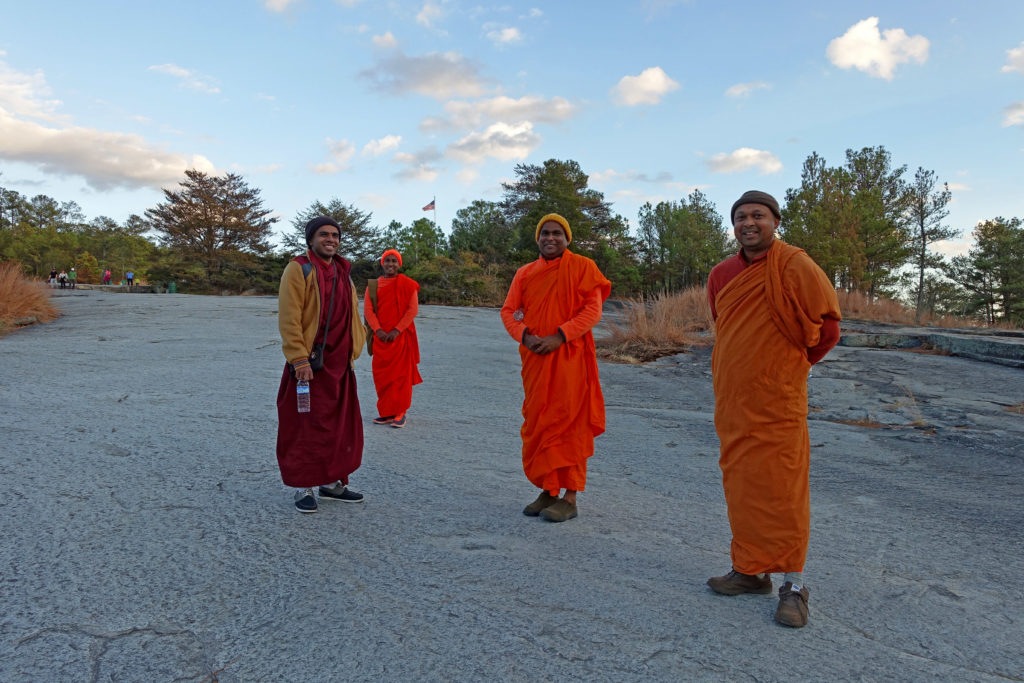 And back on June 13, I met Laotian monks that spoke Thai. Here I am with my hands together and genuflecting, attempting a respectful Thai greeting called "the wai" or just "wai" to Somsouk, 33, and his grandfather, Pe, 83. Women are not supposed to touch monks, so I naturally didn't pose with my arms around them.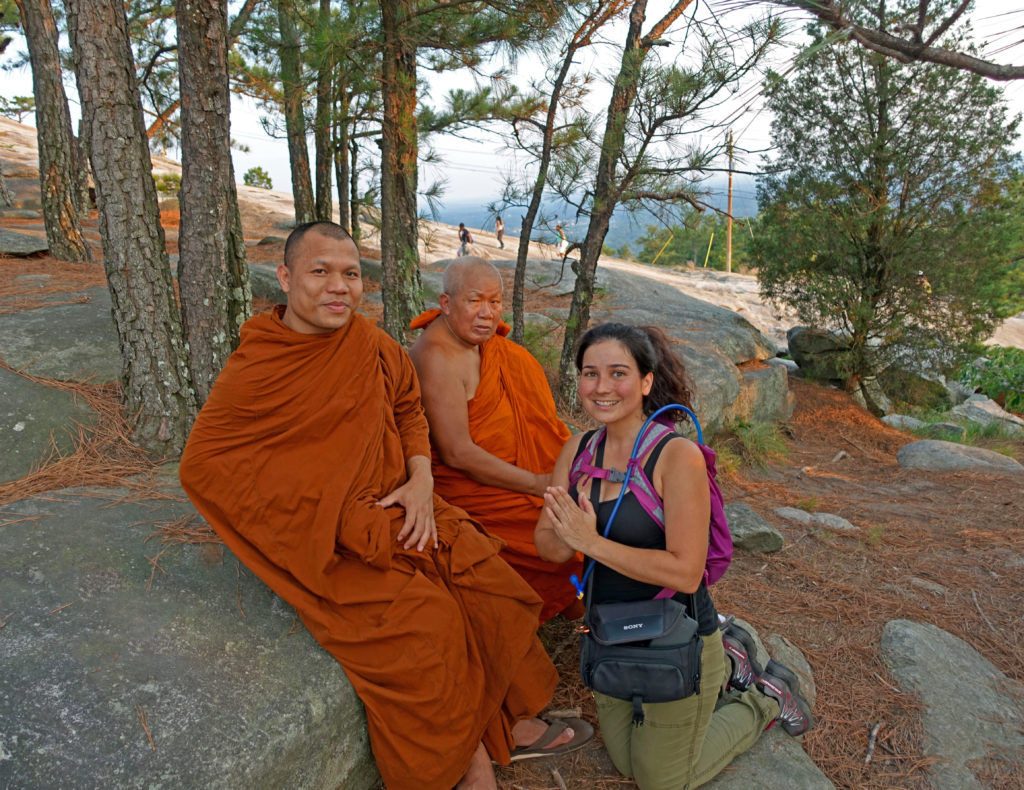 .
The monks from the Wat Phramahajanaka were so friendly and genial about my talking to them taking photos. They were actually quite surprised when I said S̄wy māk (สวยมาก), which means "very beautiful" in Thai! I was only repeating what Pe had said back in June, which sounds like "soy mar." What a gift language reveals itself to be, when the slightest phrase can open a connection between people.
I do not speak Thai, of course, and don't know a lot about Buddhism or the different types of monks (city and forest monks, who knew!), and so was very grateful that Stephen Hoare, of Fayetteville, GA, was with the monks and had in fact helped transport them there. Stephen and his wife and twin sons attend services at Wat Phramahajanaka in Griffin and Wat Buddha Bucha in Decatur, GA. He is a Senior Technical Specialist ("old mechanic") in the Predictive Maintenance Engineering section of Delta Air Lines. I had so many questions, and he was just as patient and accessible as the monks.
"Are you a Buddhist?"
"I guess I'm a Buddhist. I first heard about Buddhism as a kid on military bases when a friend showed me pictures of when he was a novice monk. After that I liked to listen to Alan Watts radio programs on WFMU."
"I looked up wai (after meeting Samsouk and Pe in June), but what do you think wai is?" I asked him.
"From being around a Korean community when in high school, I was somewhat familiar with bowing and Korean manners. A wai is like Thai bow. The practice is to start with the highest ranking person in the group, then oldest to youngest. Thai social structure is highly stratified. Fortunately, Thais are tolerant of non-Thais not quite getting it right as long as it was done with respect."
"This is what should be accomplished by the one who is wise,
Who seeks the good and has obtained peace.
Let one be strenuous, upright and sincere,
Without pride, easily contented and joyous.
Let one not be submerged by the things of the world.
Let one not take upon one's self the burden of riches.
Let one's senses be controlled.
Let one be wise, but not puffed up and
Let one not desire great possessions even for one's family.
Let one do nothing that is mean or that the wise would reprove.
May all beings be happy.
May they be joyous and live in safety.
All living beings, whether weak or strong,
In high or middle or low realms of existence,
Small or great, visible or invisible,
Near or far, born or to be born,
May all beings be happy.
Let no one deceive another, nor despise any being in any state.
Let none by anger or hatred wish harm to another.
Even as a mother at the risk of her life
Watches over and protects her only child,
So with a boundless mind should one cherish all living things,
Suffusing love over the entire world,
Above, below and all around without limit,
So let one cultivate an infinite good will toward the whole world.
Standing or walking, sitting or lying down,
During all one's waking hours
Let one practice the way with gratitude.
Not holding to fixed views,
Endowed with insight,
Freed from sense appetites,
one who achieves the way
Will be freed from the duality of birth and death."
—The Metta Sutta | Buddha's teaching on lovingkindness