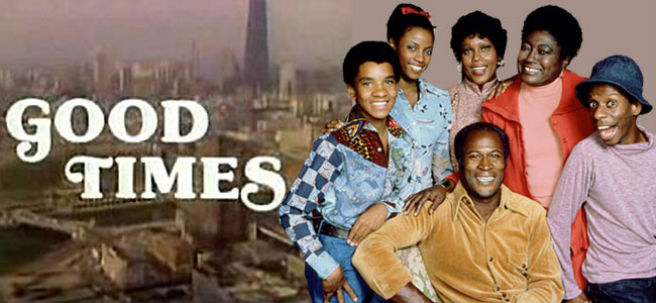 I had already climbed the mountain and was back at the base, when her bright yellow braids caught my eyes. "I really like your hair!" I yelled out to Carlena Evans. Next thing you know, I was singing the theme song to "Good Times" right there on the mountain. Evans, 35, of Duluth, GA, is the CEO of a youth program called Kidsplosion and is also the daughter of the late Mike Evans, a co-creator of the hit '70s sitcom "Good Times," who also played Lionel on "The Jeffersons" and "All in the Family." The family in "Good Times" even bears the real-life Evans' last name.
An '80s latchkey kid, I grew up watching reruns of "Good Times," "The Jeffersons," "What's Happenin'"—black television in general— and too many other TV shows to name (make of it what you will; I still have commercials from that decade memorized). Would that I had been involved in one of the many afterschool or summer camp programs that Kidsplosion offers (truthfully, I was playing and exploring outside and reading a whole lot, too). Evans tells me that Kidsplosion is currently partnered with Rockdale County, Gwinnett County, various recreation centers in urban areas with large minority populations—and even with the African country Ghana, which is where she had her yellow braids done (at first I thought she was a Georgia Tech fan). I told her that I thought Dekalb County might well benefit from Kidsplosion, but no partnership exists with them at this time.
What does exist, however, are tons of episodes of "Good Times" on YouTube—"ain't we lucky we got 'em." Sadly, though, I only recently learned that none of the show's original creators, Eric Monte (born on Christmas in 1943) and the late Mike Evans (and now his daughters Carlena and Tammy), receive royalties or residuals from the show or sales of DVDs of the show. I hope they're still "not getting hassled, not getting hustled" like the lyrics in the show's theme song.
Earlier this year, a Kickstarter campaign was launched for a "Good Times" reunion movie but was unsuccessfully backed. Carlena Evans also spoke a few years ago about her hopes to make a behind-the-scenes "Good Times" documentary.
"Good Times"| Nate Bookman Christmas dance