Who is Charlie C. Gholston? I've been asking myself this since Thursday evening, when my friend Bryan Feldman alerted me to a new carving he'd discovered on Stone Mountain (I first met Bryan in October 2014). Just when we think we've seen most all of them, a new one reveals itself after a hard rain or in a certain light and is cause for excitement among the few of us who attempt to catalog the carvings. The sun had set beautifully, and we made our way in the dark to the spot at the foot of the Confederate flag terrace on the right. We both shined the flashlights from our phones onto the sizable granite slab, hidden until now by shrubbery and earth, and it looked an awful lot like a cemetery headstone. In the top left corner was etched "10 17 27 A. M." (and maybe a small square or "R"). The next line reads "CHARLIE C. GHOLSTON" (the "S" backwards). Beneath it, "I AM THE LOST" (again a reversed "S") is carved onto a carving of Stone Mountain. What a very "meta" 90 year-old carving.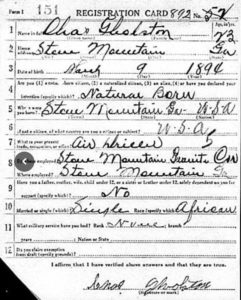 That night I started researching Charlie C. Gholston and the intriguing phrase "I AM THE LOST," and I dare say I now know a little bit more about him and the origins of those words. If I am correct, he was an African American air driller for the Stone Mountain Granite Company at the time of this carving. There is a sad irony that his ornate carving rests in the very shadow of the Confederate flag terrace erected by the United Daughters of the Confederacy, finished and dedicated in 1964. But perhaps it's better to consider its placement subversive on his part. Though it is hard not to consider what other carvings were destroyed or covered over by the flag terrace.
The other lamentable injustice, of course, is the dearth of records of African Americans up to a certain point in history. A few immediate ones do exist on Ancestry.com, though, however scant. So far as I can tell, Charlie Columbus Gholston was born on March 9, 1894 in Stone Mountain, GA to Augustus "Guss" Gholston and Lucinda Jackson, who married on March 22, 1879. Anyone else notice that I was led to his carving on his birthday?

According to the 1880 U.S. Census, Charlie's dad Guss was born around 1858, and his profession was recorded as a farmer. In the 1900 and 1910 reports he was listed as a laborer on the railroad section ("R.R. section") at Stone Mountain, and his wife, born Lucinda Jackson in March 1861, was listed as a laundress — she could read but he could not, according to the document. In the 1910 report, Guss is listed as 50 years old, and Charlie is listed as 16 years old and able to read. Guss and Lucinda (sometimes spelled Lousinda or Loucinda) lived with their eight children on "4th Main," which is where the historic African American community Shermantown is located. Many of the sons were listed as quarry workers.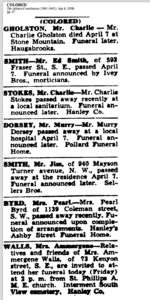 100 years ago, in 1917, Charlie C. Gholston registered for the WWI draft, and his occupation was listed as an air driller for the Stone Mountain Granite Company. If we assume his carving is from 1927, as the date on it suggests, then Charlie would've been 33 years old when he carved it. My best guess as to the meaning of "I AM THE LOST" is that it's a Biblical reference to the parable of the lost sheep found in Luke 15:1-32. Of course, how could I not also find those words similar to the name of this website, I AM THE MOUNTAIN.
The Atlanta Constitution recorded Charlie Gholston's death on April 7, 1938, in the "colored" obituary listings, and the historic Haugabrooks Funeral Home, established in 1929, on Auburn Avenue handled his services, but I don't yet know where he is buried.
I hope to continue researching Charlie and his family to see where this story may lead. It is certainly exciting to find three carvings by him on Stone Mountain, where he and his family no doubt labored long and hard.
A prominent, artistic flourish atop one of Charlie Gholston's carvings reads "Lille," which was his younger sister's name, as listed in the 12th U.S. Census from June 27, 1900.