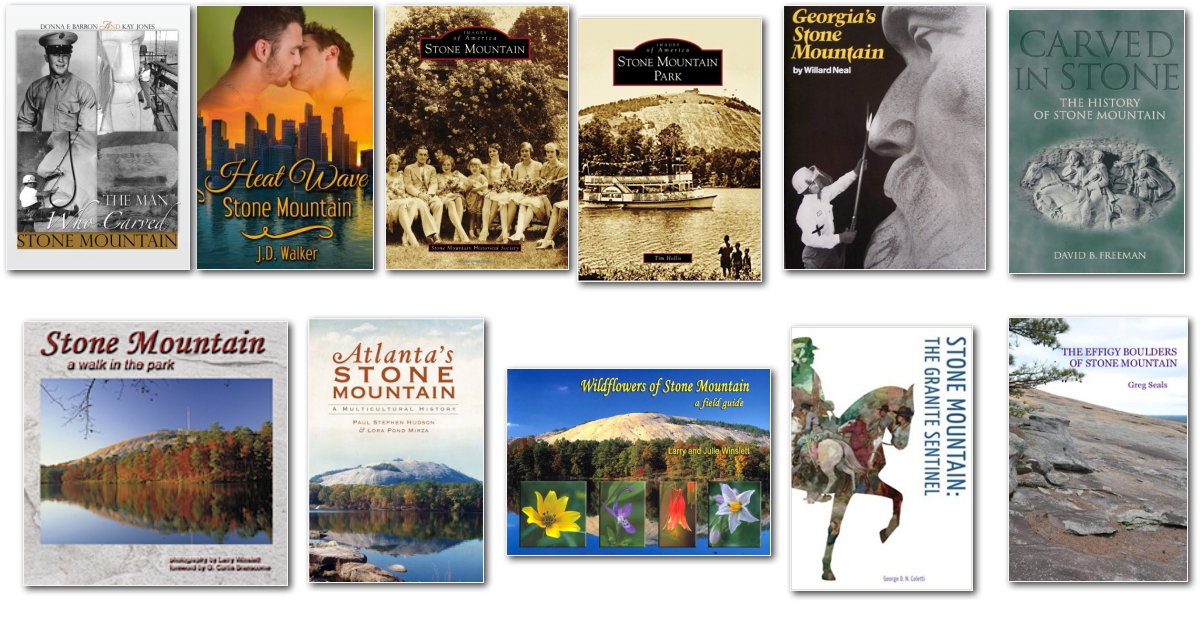 It's World Book Day, and as this website focuses on Stone Mountain, a round-up of the wide array of books out there focusing on Stone Mountain seems only fitting. What actually prompted me to finally pull together this list that's been rattling around in my head for awhile now was a page from author Taylor Brown's award-winning 2016 novel Fallen Land, set during the Civil War, that makes a reference to Stone Mountain. As did the recent news that Stone Mountain (and this website) will be mentioned very briefly in the forthcoming non-fiction book City on the Verge: Atlanta and the Fight for America's Urban Future by Mark Pendergrast. I will be sharing more about Mark Pendergrast in the days ahead about our time hiking the mountain together back in May 2015.
---
I occasionally run across the same handful of titles about Stone Mountain anytime I'm doing cursory online research about it, but I have not yet read them (or seen them, in the case of the photo books). Therefore, this is merely a compilation (and incomplete, at that) and not an endorsement. Also, I have not verified yet whether any of these books are still in print or even sold at Stone Mountain Park in any of their gift and souvenir shops, but it's my impression that most probably aren't sold at the park, which does not have a dedicated bookstore.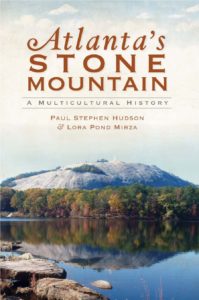 From what I can tell, David Freeman's Carved in Stone, published 20 years ago by Mercer University Press, seems generally regarded as the default book on the subject, even though more recent, briefer histories have followed, three of which are affiliated with Arcadia Publishing and The History Press based in Mount Pleasant, SC. Arcadia Publishing was founded in 1993, and The History Press was established in 2004, and combined, they tout themselves as "the largest and most comprehensive publishers of local and regional books in the United States with a library of more than 12,000 titles," 900 of those a year. You will often see their slim volumes displayed together when you walk into your local independent bookstore or Barnes & Noble.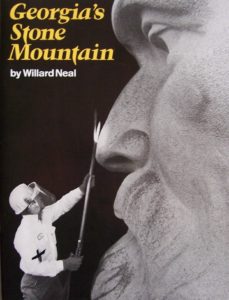 Beyond these titles, it may not surprise you that most of the books I've found about Stone Mountain were self-published — from novels and biographies, down to the photography books, two here by photographer Larry Winslett, who some refer to as Stone Mountain Park's official photographer (unverified)  — including the oldest one here, Georgia's Stone Mountain by Willard Neal, a 45-page black and white paperback published in 1970 by the Stone Mountain Memorial Association (SMMA) upon the completion of the carving (click cover image for AJC review). Most recently, not long before Roy Faulkner died in 2016 at the age of 84, Donna Faulkner Barron and Kay Jones Stowe worked with a Christian vanity press to publish The Man Who Carved Stone Mountain to commemorate the life of the mountain's final carver in a 58-page book.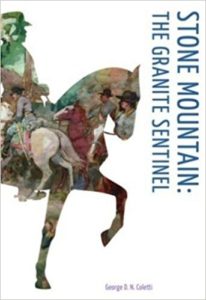 George Coletti's self-published debut novel, Stone Mountain: The Granite Sentinel is well-promoted in Stone Mountain Village, where he lives with his wife, Susan, a member of the city council. One can even find it displayed in the Stone Mountain Village Visitor Center, the bright red caboose next to the public parking. Coletti is also the grandson of Elias Nour, and though his book is fiction, he's widely considered one of the keepers of Stone Mountain's history and his book is likely heavily researched. The city also boasts an active historical society, which published one of the aforementioned Arcadia Publishing tomes, Stone Mountain | Stone Mountain Historical Society.
The self-published title on this list I'm probably the most familiar with is The Effigy Boulders of Stone Mountain by Greg Seals, because I've called it out on my website before when describing the lack of verifiable information about Native Americans at the mountain and the careless and lamentable removal and destruction of Native American artifacts by settlers and developers long ago. Not to mention I see the boulders in question every time I walk the mountain. While Seals, a local high school teacher, offers an exciting proposal that Native Americans may have left "effigy boulders" on Stone Mountain in the shapes of various animals, it's my opinion that the book has the potential to perpetutate misinformation and myths about Native Americans in the area if the existence of such effigy stones on the mountain cannot be authenticated and are themselves not protected.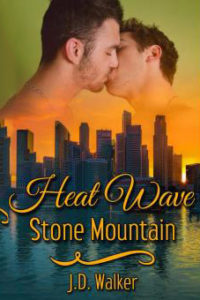 Last but not least, it might surprise you that Stone Mountain has inspired at least one gay erotic fiction book, Heat Wave: Stone Mountain by J.D. Walker, published by jms press. Also, there's a digital historical romance series with a western twist called the Men of Stone Mountain by Caroline Clemmons, but that Stone Mountain is located near San Antonio, Texas!
But, wait, there's more! Our friends at Stone Mountain Guide show a few more publications about Stone Mountain that were published through the years, many of which were probably in-house promotional booklets issued by the SMMA and are likely out-of-print.
Perhaps my favorite discovery so far—by way of a friend who recently ran across his signed copy—is C. E. "Buddy" Cantrell's 62-page 1975 spiritual autobiography Holy Stone Mountain (what a title!). Cantrell ran Cantrell's Books & Things in Decatur, GA, "the largest and finest used Book Store in the South, with a Swapping Service extraordinary [sic]." Click here to read from a PDF version of the book!