It's coming up on two years now since I had the privilege of hiking Stone Mountain with author and Atlanta native Mark Pendergrast on May 15, 2015. And I'm ashamed to say we almost didn't have that opportunity, all because I wasn't at the top of my email game when he first reached out about a book he said he was writing about the Atlanta BeltLine (but I swear I had the most adorable explanation). But Mark was undeterred and went old school on me by sending a letter in the mail, my first taste of what a famously thorough journalist he is. Judging from the reviews, his seven previous non-fiction books are a testament to that doggedness and run the gamut of topics — from Coca Cola, to a history of coffee, and a mountainside coffee cooperative in Thailand, to the controversy of "recovered memories" of sexual abuse, mirrors, epidemics, onto Japan's tipping point. He's even written children's books.
Mark's letter came from Vermont, where he now lives, and said he would be traveling to Atlanta to conduct a series of interviews for his book and that he'd like to go to the mountain with me. He'd seen this website and was initially reminded of a regular column he once wrote for the Burlington Free Press called "A Day in the Life," in which he would tape record interviews with people in different occupations. More importantly, my website resonated with a major theme of the book he was working on at the time, "which is that racial issues underlie virtually every other issue facing Atlanta, even if unspoken." That book is now on the brink of publication and is called City on the Verge: Atlanta and the Fight for America's Urban Future  (Basic Books; May 16, 2017), and I'm honored to be mentioned in it in Chapter 14 for the website, mostly that someone as eclectic in his thinking and as meticulous a researcher as Mark acknowledged my humble efforts to illustrate what a multicultural and multi-faith experience climbing Stone Mountain can be nowadays — despite its still not being able to shake being synonymous with white supremacy, owing to that pesky detail that it's a Confederate monument that continues to act as a beacon to racists. I wrote more about this over at the City on the Verge website, which is hosting guest blog posts.
Legitimation is a welcome breeze that blows when one feels the swelter of being alone too long with their vision (so is good editing!), and it's fair to say that Mark's notice of the site made me feel closer to being understood. It wasn't quite imposter syndrome, but I was still a little intimidated to meet a brilliant polymath like Mark. I pride myself on a fairly "organic" approach to covering the mountain for the site (i.e. not arranging interviews but rather letting encounters unfold as they will, naturally and randomly), so as to never be accused of artificially orchestrating events to fit my message. What a twist then that Mark, notebook and a Sony snapshot camera in hand, stood there beside the 2004 Volvo station wagon he'd driven down in from Colchester wanting to talk with me—and I wasn't quite sure how to conduct myself! But our rapport was instant as we first strolled through the village just after 11am. This animated GIF of him ringing the Freedom Bell on Main Street (it actually lacks a clapper) pretty much sums up the tone of our outing. And little did I know then that within hours he'd be singing a song he'd written from on top of Stone Mountain!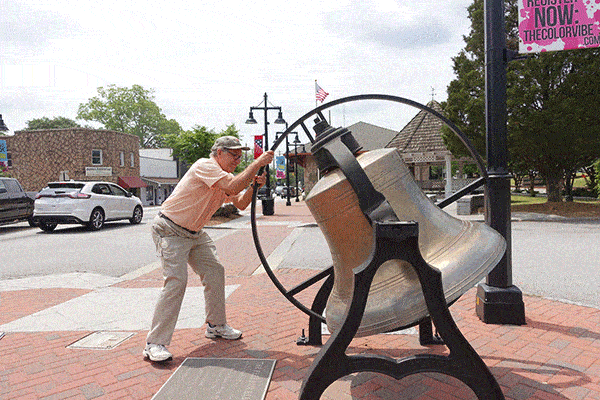 How fitting that one of the first people Mark and I ran into on the mountain wore a shirt that read TAKE NOTES. I'm pretty sure Mark wrote down more in his notebook than I did in my phone's Notes app, as I mainly dropped back to watch him interview random folks on the mountain — kinda like I usually do for the website! No walk up and down the mountain's walk-up trail is ever the same, just as every sunrise and sunset is the first of its kind, and depending on the time of day, you really never know just who or what you'll see. By 11:30am, the air already felt viscous, and the sky seemed pregnant with a heavy rain clouds whose water would not break (it wasn't in the forecast that day), and the cloud ceiling intensified the colors all around us. It wasn't quite the kind of day where the air alone sweats a person without them even moving an inch. Everyone, including Mark, seemed to be wearing orange that day. There were the Perry Panthers mobbing a tree on a school field trip wearing "safety orange" and a young woman named Taylor from Orlando in orange whose hairstyle appeared as cumulus as the clouds behind her. Such a coincidence of color tempted me to get side-tracked about the color theory of physics, but I did my best to stay focused! Mark also bumped into some of his fellow Vermonters taking a break on the mountain, and I had to quiz them about their state's whopping 67 mountains. Like when I meet people from Nepal at the mountain and wonder what someone with the Himalayas in their backyard thinks of our molehill by comparison. Though I've never skied in my life, both Mark and the group agreed that Sugarbush, with Lincoln Peak and Mt. Ellen, would be a good place to start (there are hiking trails, too).
The approaching centennial of the Leo Frank lynching on August 17, 1915, was very much on my mind as Mark and I walked and chatted (okay, I was kind of obsessed with the story at the time and maybe still am). I spotted a rock where someone had attempted to carve the name Leo (perhaps in homage, perhaps not) and began discussing Stone Mountain's (and the state's) dark connection to the case and anti-Semitism in general: thirteen year-old Mary Phagan was murdered on April 26, 1913, at the National Pencil Company (a building owned by the Venable Brothers of the Stone Mountain Granite Company), located at 37-41 South Forsyth Street in downtown Atlanta. Her murder, pinned on a Jewish factory manager, Leo Frank, spurred a group of white men calling themselves the Knights of Mary Phagan, many of them prominent Georgia politicians, to burn crosses on top of Stone Mountain in November 1915, declaring themselves the Knights of the Ku Klux Klan and the mountain the 20th Century rebirth place of the Klan. Many of these same men had just participated in the kidnapping and lynching of Leo Frank in Marietta, GA just weeks before. Mark, of course, actually ended up writing briefly about the Leo Frank case and the revival of the KKK on Stone Mountain in City on the Verge in Chapter 4, "Two Atlantas: The Racial Divide." Lord knows neither of us could've imagined then the awful wave of racism and anti-Semitism to come during the 2016 election,
Just in time to lift us up from the somber talk of a hate group, Mark burst into song at the top of the mountain. I'd witnessed this phenomenon before. Something about being up high often compels a person to warble and even serenade the city of Atlanta in the distance. The top of Stone Mountain easily offers one of the most spectacular 360-degree views, allowing one to see the skylines of Atlanta, Buckhead, and Cobb County, and much more. Now that I think about it, that was such a perfect promontory for an Atlanta son like Mark to find himself perched as he contemplated that third book of his related to Atlanta that has become City on the Verge. How further apropos that he sang of peaks and clouds and flying, and trying not to fall, from the mountaintop.
After picking up and weaving in and out of several more conversations with various people at the summit, we took one of the verdant wooded side trails down the mountain (Mark has an impressive understanding of lichen, by the way!) to attempt a more focused chat without as many pleasant diversions and, lo and behold, if we didn't find ourselves in Confederate Hall posing with our "certificate of achievement" for climbing the mountain (I think that was the first I'd been inside in awhile — and the last). Back at our cars after several hours together, Mark signed a copy of Mirror Mirror to me and even inscribed a copy of one of his children's books, Jack and the Bean Soup, to my nephew, Sam, who incidentally turns four on Saturday. Before we said our goodbyes and parted ways, Mark realized he'd left his notebook back at Confederate Hall and headed back down THE PATH walkway beside the parking lot to return to the mountain. I hope we get the chance to do that again sometime, and I truly look forward to reading his book.
Mark Pendergrast Sings it On the Mountain
In my dreams I'm flying,
In my life I'm trying not to fall.
There is no denying
Sometimes I feel my back's against the wall.

But I fall asleep and I'm flying
from my house and high above the clouds,
beyond the rainbow's colored streaks,
across the mountain's highest peaks,
I float regardless of the startled staring crowd below,
Over the desert or the frigid blowing snow,
I fly to the places no one else can go.

And some day maybe I'll find how
to take my flight while wide awake and then
I'll swoop and twirl and glide down,
Landing gently next to you, my friend.
And you'll say, "Wow!  Could you please do that again?"
And you'll say, "Wow!  Could I please do that with you, my friend?"
But till then...

In my dreams I'm flying,
And in my life I'm trying not to fall.

Mark is also a singer in Vermont choral group called Social Band. You can listen to more of his songs at his website

.
DATE AND TIME
Tues., May 23, 2017
7:00 PM EDT
LOCATION
Jimmy Carter Presidential Library
441 Freedom Pkwy, Atlanta, GA 30307
---
Atlanta is on the verge of tremendous rebirth-or inexorable decline. A kind of Petri dish for cities struggling to reinvent themselves, Atlanta has the highest income inequality in the country, gridlocked highways, suburban sprawl, and a history of racial injustice. Yet it is also an energetic, brash young city that prides itself on pragmatic solutions.
Today, the most promising catalyst for the city's rebirth is the BeltLine, which the New York Timesdescribed as "a staggeringly ambitious engine of urban revitalization." A long-term project that is cutting through forty-five neighborhoods ranging from affluent to impoverished, the BeltLine will complete a twenty-two-mile loop encircling downtown, transforming a massive ring of mostly defunct railways into a series of stunning parks connected by trails and streetcars.
Books sold by: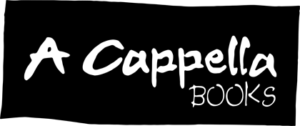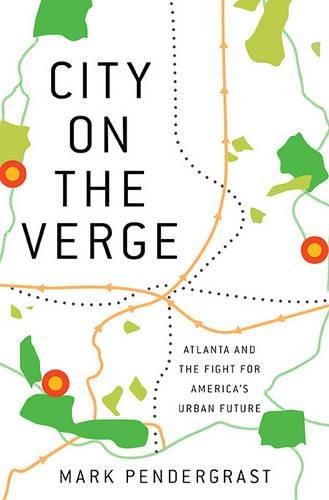 Acclaimed author Mark Pendergrast presents a deeply researched, multi-faceted, up-to-the-minute history of the biggest city in America's Southeast, using the BeltLine saga to explore issues of race, education, public health, transportation, business, philanthropy, urban planning, religion, politics, and community. An inspiring narrative of ordinary Americans taking charge of their local communities, City of the Verge provides a model for how cities across the country can reinvent themselves.
 Free and open to the public.                  You can also pre-order a signed copy.