I might be turning into a better listener. Lately, editing videos has helped me see how I sometimes excitedly interrupt before I let people finish answering. But, I've found that if I'm quiet and patient, sometimes a fool will even speak his mind without me posing very many questions at all. In light of our country's leader speaking so eruditely about the Civil War today, I present a most recent example of my best efforts to be a good listener, especially when I found a lot of what was said outright appalling.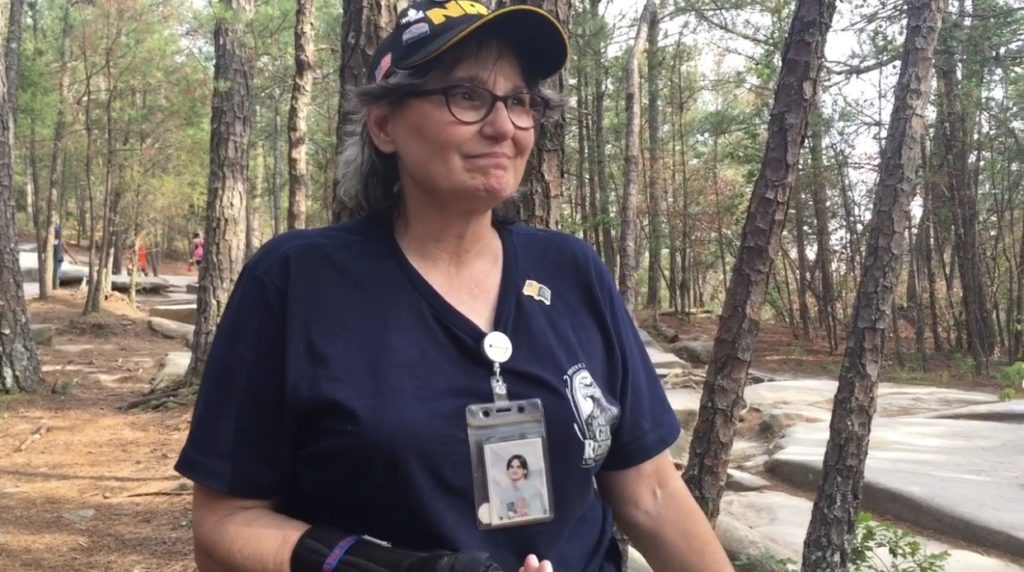 On Saturday, April 29th, Lorie Siefert, 53, from Biloxi, MS, noticed me taking a path in the woods just slightly off of the main walk-up trail and amiably commented in so many words that mine seemed the more sensible route than her rockier one. She was decked out in an NRA hat adorned with pins and wore a badge clipped to her shirt bearing the photo of a young man, who I later learned was her late son Nathanael, who passed away from cystic fibrosis at the age of 28. Minutes before, I'd met 37 year-old Armelle, a physician visiting from Yaoundé, Cameroon and her lover Blaise, 39, also from Yaoundé, and a student here in the U.S. I'd also just recorded 18 year-old Aaron Christopher Porter from Sims Valley High School in southern Ohio playing mountain regular Tony Taylor's guitar, and he sang so well that he could be a contestant on "The Voice." He and his fellow Sims Valley High School students were on their senior trip, which also took them to Florida's beaches.
So why not ask Lorie about why she was attending the NRA Expo in Atlanta and why she was climbing Stone Mountain, right? As we talked, her 76 year-old traveling companion (they drove) from Pearlington, MS, who goes by "Captain Fou," walked up in an unbuttoned camo jacket (says he was a 101st Airborne paratrooper), and without knowing what he was overhearing (which was whether the St. Andrew's Cross, often used by the Klan, is racist), he seized upon the word "racist" and launched into a defense of state's rights and "the good guys"—the "abolitionist" Confederate generals.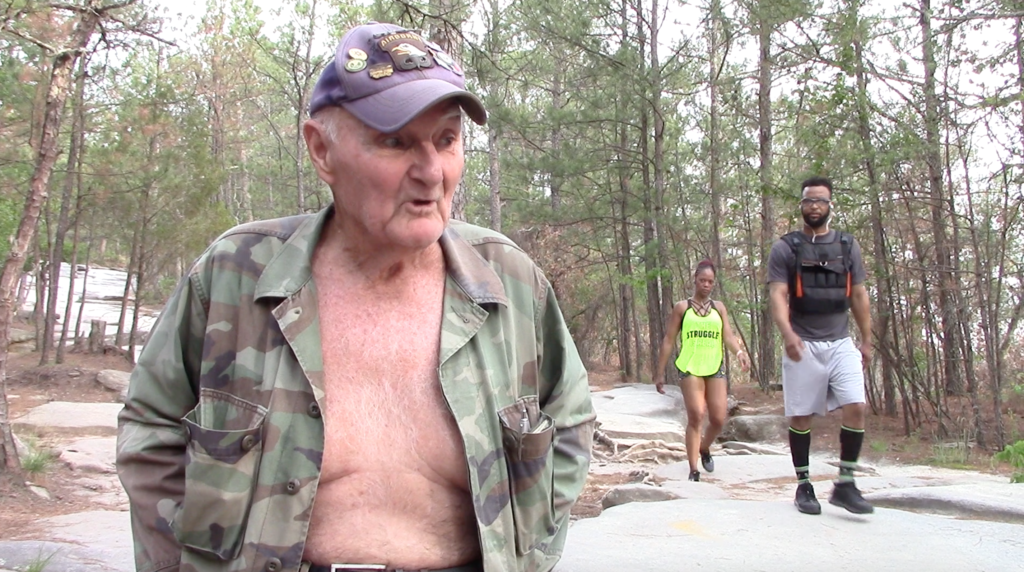 His real name is Martin Luther Bowman, III, and he's fond of repeating, toothlessly as he licks his gums and laughs in agreement with himself, "well get the facts dear," "get the true facts," "on TV just the other day," and "read your history." Lorie is partial to the urgent qualifying phrase "you can look it up." Though neither trusts government or the media, both are quick to recommend books on everything from government cover-ups, sex scandals, child kidnapping and pedophilia rings, the Bin Ladens, and anything disparaging Abraham Lincoln. Both are hardcore Ron Paul supporters that voted for Gary Johnson, and "Captain Fou" said I "did a bad thing for the country" by voting for Hillary Clinton (some Hispanics walked by and said they voted for her, too, and I cheered "viva la Clinton!"). I posed the same questions to him as I had Lorie about why he came all the way from Mississippi to attend the NRA Expo and why he included a trip to Stone Mountain, but he didn't stay on topic very long before diverging into a whole lot of racist blathering that rightfully had passersby throwing a lot of shade our way. As you might guess, he does not consider himself a racist or the Confederate monument or flag as symbols of white supremacy.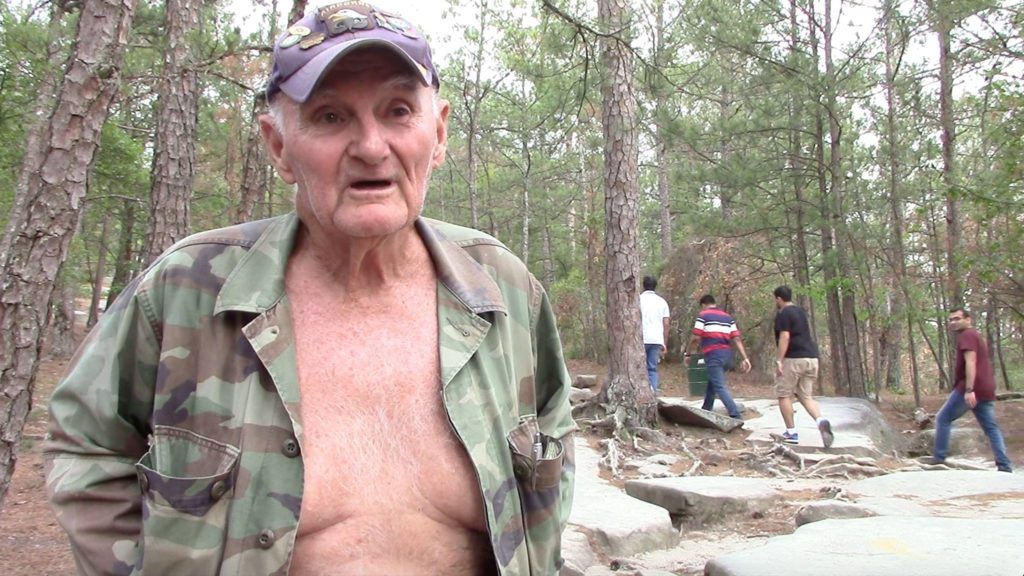 Knowing I won't be able to change most people's beliefs and value systems, which seem set so early by a collusion of forces, helps me not throttle them on the spot, I suppose. But it doesn't make me go quietly either. Overall I was more sympathetic to Lorie, perhaps because she wore a photo of her late son, but she was genuinely nice to me. I asked her a lot of questions about why, as a libertarian, she is a paying member of the NRA, which backed Trump and still has done nothing about mass shootings in our country, etc., and she asserted her wish to protect the Bill of Rights and Constitution of United States of America from within the organization. Neither she nor Captain Fou swore at me or hurled racial slurs at me like the alt-right racists did last fall, and we amazingly agreed about disliking Trump (Captain Fou even sings a song about it), but our conversation still left me feeling more than a little uneasy about just how many more people just like them are out there pedaling so much anti-government, conspiracy-laced pablum. While I just relived at least an hours worth of footage of them espousing their beliefs in the editing process, here's but a smattering of the conversation with them before they headed back to the city to see Bocephus play (well, at least Lorie wanted to attend the concert).