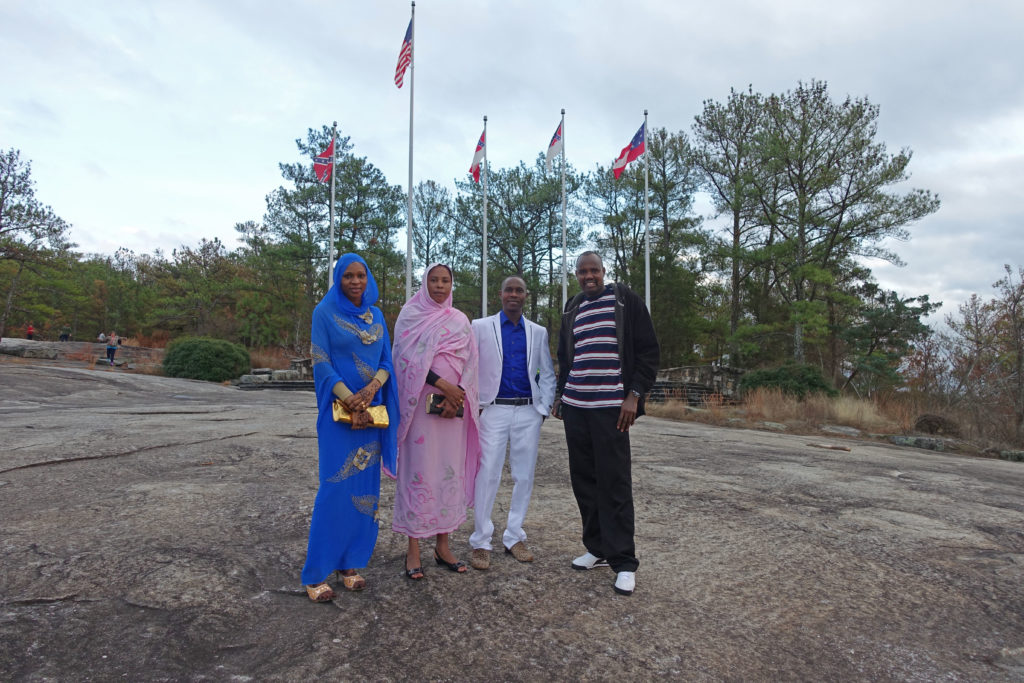 That a mountain bulging boldly, as if to the heavens, beckons to people of all races, spiritual faiths, and walks of life should hardly surprise anyone; after all, mountains figure in most every holy book, and these pinnacles, jutting along the world landscape like vertebrae, have inspired mystics, explorers, and adventurers since time immemorial. But, and I say it often and have devoted this website to it, what makes the multicultural and multi-faith convergence at Stone Mountain's summit all the more remarkable, is that this particular protruding pluton of mainly quartz monzonite was once the stage for the 20th Century rebirth of the Ku Klux Klan.
I say "once was," but menacing vestiges of the Old South are still on full display at Stone Mountain Park, which is not a state park or a national park but rather run as a publically-cum-privately theme park. The Confederate monument carved on the north face of this natural formation and the Confederate flags flapping in the wind down at the base of the mountain's walk-up trail are two such prominent examples of how the Confederate ideologies of white supremacy and the protection of slavery are still being upheld (as high as a mountain) as something to be valued above other parts of the historical narrative of the area. This is a big part of how racism gets institutionalized in the first place, when monuments are erected and importance is placed upon them and certain parts of history at the expense of others' experiences, which were never marked or memorialized at all.
Being once home to a hate group, isn't it fair to think that Stone Mountain has an extra special responsibility to disavow institutionalized racism and to take a more proactive stand for civil and human rights? Hasn't the steady rise in hate crimes, racism, and bigotry over the past several years, and the recharged debate about Confederate flags, demonstrated enough that these monuments, belief systems, and flags are still serving as a calling card for white supremacists and hate groups? Ever since Trump's inauguration, 2017 has been fraught with threats of a Muslim travel ban, a ban on Syrian refugees, mass deportations of undocumented Mexicans and an unabating onslaught of grim news from an administration that's been on some sort of perverse spree to dismantle everything from the previous administration since day one.
On December 17, 2016, three days before the new year, I met newly married Sudanese refugees, Najwa, 21, and her husband, Najmeldin, 28, currently resettled in Cedar Rapids, Iowa, who were in town visiting family living in the area. The Muslim couple were incongruously stunning next to the 53 year-old flag terrace donated by the United Daughters of the Confederacy in 1964, and Najwa kindly showed me her intricate black henna wedding tattoos.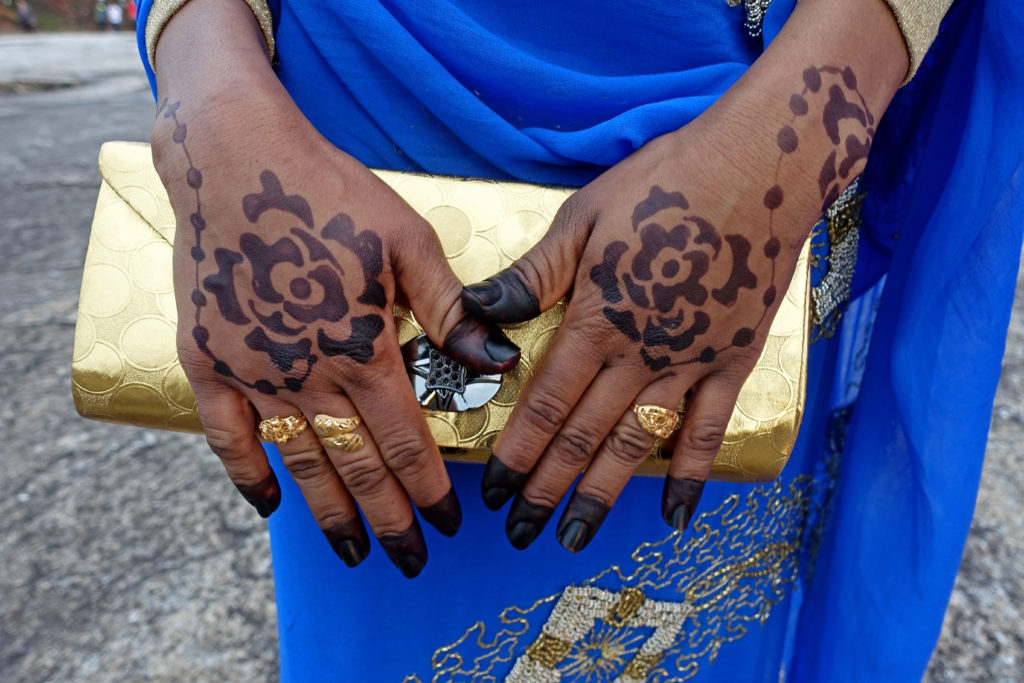 A month later, on January 27, 2017, Trump signed an executive order seeking to limit immigration from Syria, Sudan, Somalia, Iraq, Iran, Libya, and Yemen, and I instantly thought of Najwa and Najmeldin, and so many other immigrants and refugees and Muslim-Americans currently residing in the United States, whose lives would undoubtedly grow that much more difficult now. It certainly didn't go unnoticed to many that he signed that order on International Holocaust Remembrance Day, as well as signing one at the same time to build a wall between the U.S. and Mexico—plus imposed a three-month suspension of refugees entering the U.S. Adding more insult to injury, he didn't even mention Jews or anti-Semitism in his official statement that day.
An America that turns her back on so many despairing asylum seekers for the foreseeable future did not seem to make America great to me then and it still doesn't. Atlanta, Norcross, Decatur, and Clarkston are the four current Welcoming Cities in Georgia (for years many thought Dalton, GA was the state's lone sanctuary city, but it's not). Clarkston, with 563 businesses and now one of the most ethnically diverse cities in America, is actively appealing to be an official sanctuary city and works often with New American Pathways and other organizations that aid resettled refugees. Pine Lake, next to Stone Mountain and Clarkston, declared itself a safe haven for refugees in November 2016.
June 25, 2017
This month is Ramadan, concluding soon with Eid al-Fitr (falling between Saturday, June 24 and Tuesday, June 27, depending on the calendar and when the new moon is seen in the sky). I often see Muslims enjoying Stone Mountain, particularly whenever there's a new moon and during their sacred months (I'm reminded of the significance of Jabal al-Nour or "Mountain of Light"), but the political climate in recent years, filled with so much Islamophobia, has caused me to worry more than once that Muslims might stop feeling safe in their communities or that perhaps I'd see them less at the mountain.
Tonight I headed to the mountain just before sunset (I'd been out in Jonesboro most of the day seeing Burt Reynolds of all things —I'm in slide #9)!), practically begging to be caught in another summer downpour. Instead of rain, though, at the conclusion of my hike I beheld in the crepuscular light a group of Muslim friends and family gathered at the base of the walk-up trail in front of the dissonant Confederate flag terrace. I learned they're members of the Atlanta Masjid of Al-Islam in East Atlanta and were engaged in an ever important moonsighting to mark the end of the Ramadan and the commencement of celebrating Eid al-Fitr, "festival of the breaking of the fast." Their historic mosque is as old as Stone Mountain's Fourth of July fireworks celebration. 50 years.
I introduced myself to them with "Ramadan Mubarak!" and told them I'd recently posted about Ramadan here (above). I showered them with questions about the Eid holiday (imagine if Christmas or Hanukkah were 20-30 days long — they also can't wait to get candy!) and asked if I might take some photos. We tried several shots using flash and were pleasantly surprised with the results. And after quickly scanning the website on his phone, the local imam among them joked that I didn't ask them to jump like the people shown on the home page. So ten year-old Hamida and 7 year-old A.J. did the honors! Here are some of the photos from our special encounter on the mountain, and I am so honored to have been with them when we saw the new moon.
Sometimes, perhaps unconsciously, people subtly shame others intellectually or otherwise for what they don't yet know. While others seem to exercise more patience and magnanimity, understanding that most of us in his or her own time will go through a process of sorting out ideas and information while trying to make sense of the world for ourselves. A path of realization. I'm genuinely grateful for these representatives of Atlanta's Muslim community being willing to share with me last night and always. And people of all faiths and cultures! I am still learning. Eid Mubarak to those who celebrate!
Mountain of Light Photo Essay
In honor of Ramadan, here is a look back in photos at just some of the Muslim women and men generous enough to allow me to photograph them over the past few years at Stone Mountain as a means of celebrating culture and fighting Islamophobia. It is more important than ever to be reminded to continue humanizing one another. Note:  What a progression in photo quality from the earliest pictures here taken three years ago with an iPhone 4 to the latest ones taken with a Sony camera or iPhone 7 Plus.