If you've been meaning to visit the eclectic, artistic enclave of Pine Lake, located right around the corner from Stone Mountain and about a twenty-five minute drive from Atlanta, the second Saturday of each month between May and  September is an ideal time to check out the small city (pop. ~763) that turns 80 this year. It's come a long way since its earliest days as a fishing resort for Atlanta's elite and has evolved well past being joked about as a speed trap town into a thriving colony of artists, musicians, writers, and activists. At least one resident even refers to it as Funkadelphia, and the Atlanta Journal-Constitution included it in its (non-Decatur) hipster's guide to Dekalb County.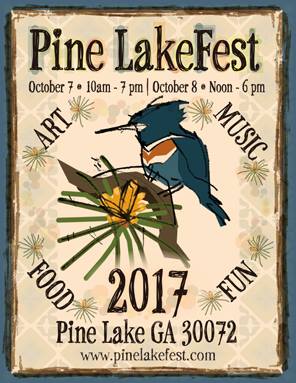 It hosted its first 2nd Saturday Market on May 13th, which was bustling with community and replete with a Food Fusion Cafe My Way food truck and a maker's market by the lake (each month the food and artist/wellness vendors change), and part of the kick-off 2nd Saturday market, included a tour of the city led by Mayor Melanie Hammett city for CIRCA, affiliated with the Atlanta Preservation Center. And for those making a full day of one of the market Saturdays, the city's very own music venue, the Pine Lake Lounge, hosts music following each market, the first one of which featured Swami Gone Bananas from 8pm-10pm. The Pine Lake 2nd Saturday Market will run through September, and the line-up of food trucks and vendors will change each month, as will the musical guests at the Pine Lake Lounge. Every fall the city hosts a festival, Pine LakeFest.
Edited to add (5/14/17): Mayor Melanie Hammett sang a song she wrote called "Little Bitty City" about Pine Lake just before the above-mentioned tour of the city:
Pine Lake was established in 1935 as a fishing resort for Atlanta's elite by the Pine Woods Corporation and developer Carl Schaub, and it received its official city charter in 1937. A former Pine Laker named Dallas Denny once blogged about Pine Lake but moved away—not before donating her research collection to the Dekalb History Center. Legend has it that many of Pine Lake's most historic records were lost to fires over the decades, so her collection and that of photographer Claude Suttle are nearly all that's available (legend is, even the original time capsule placed under the cornerstone of the historic foundation of the chapel-turned-courthouse/city hall was once unearthed to reveal only an empty rusty box). Speaking of fires, Pine Lake weathered the terrible arson at Pine Lake Baptist Church twenty-one years ago, which  author Melissa Fay Greene wrote so eloquently about for the Atlanta Journal-Constitution. Owing no doubt to its proximity to the mountain, and the prominence of Georgia's granite industry, a great deal of durable Stone Mountain granite was used to build the town and can still be seen all over today—from numerous foundations, to chimneys, curbs, and the grand outside stoves around the lake. Several months ago I reached out to Dallas to tell her about this website and to say I'd love to keep Pine Lake's story going as it relates to I Am the Mountain, and below you can read some of the old articles I found about the city's beginnings.
Historic Newspaper Articles About Pine Lake
Perhaps even better than all of this, though, is taking in the beauty of the lake itself and the federally protected wetland trails on either side of it, which are teeming with wildlife year round, but especially in springtime. A dazzling variety of birds make their homes in Pine Lake, and the city's "mascot" is a Kingfisher. A Great Blue Heron calls Pine Lake home, as do beavers, Canada geese, red-tailed hawks, yellow-bellied slider turtles, and a Muscovy drake has even taken up residence at the lake in the past week. Not surprisingly, the community is full of nature lovers, who are eco-conscious and active in sharing photos and videos of creatures great and small on a dedicated Facebook group, Pine Lake Nature Lovers.