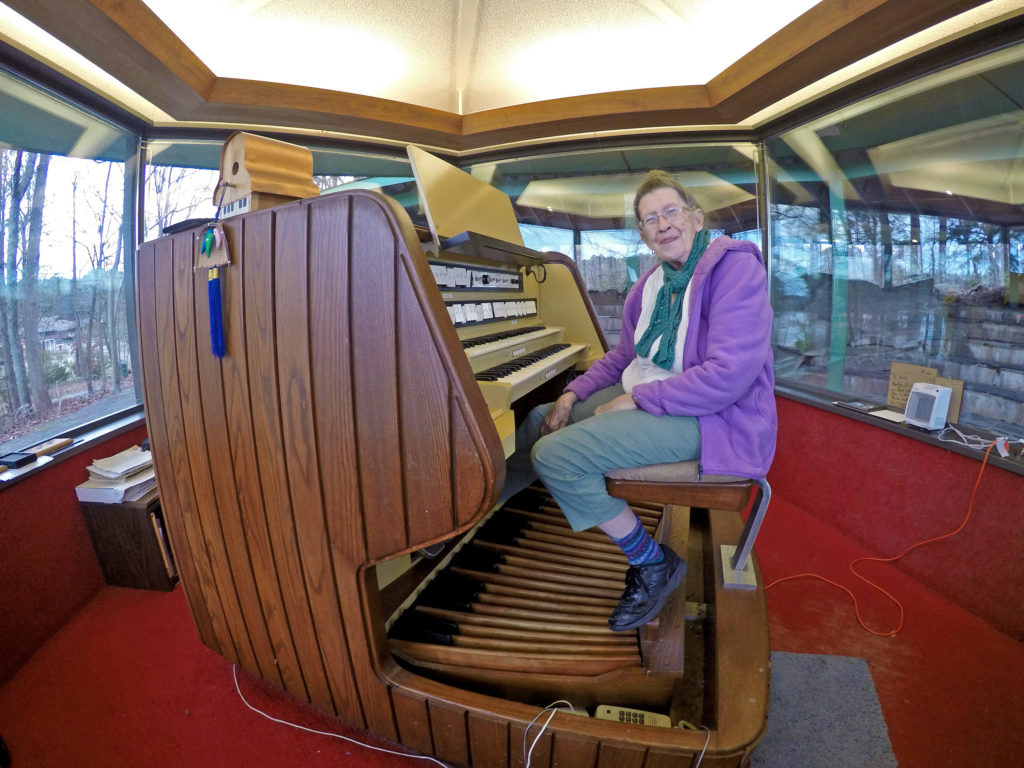 This year marks 20 years that quick-witted octogenarian and Atlanta native Mabel Sansing Sharp has been officially employed with benefits at Stone Mountain Park as its carillonneur. But she has actually been regaling parkgoers with her melodic, skilled playing of the 732-bell carillon, known as "Carillon Americana," for far longer, even though the park's website simply offers one line about her: "The Park's carillon has been played by Mabel Sharp for over 30 years." Since around 1973 or 1974 to be precise, about ten years after the colossal instrument was donated in 1965 by Coca-Cola to the State of Georgia and placed inside Stone Mountain Park. Previews began at the park in 1966, and it was fully open in 1967. President Jimmy Carter even appointed her the official carillonneur of the state of Georgia. Before the carillon found a home along one of the two man-made lakes at Stone Mountain Park, the 13-foot instrument of redwood and steel, crafted by Schulmerich Carillons in Sellersville, PA, was first displayed in Coca Cola's pavilion at the 1964 World's Fair in New York City.
Thanks in part to the activism of a Friends of Stone Mountain citizens advocacy group, formed during the 1998 shift in management of the park's attractions to the self-described Christian company Silver Dollar City in a longterm lease (now doing business as Herschend Family Entertainment), the park reinstated Mabel Sharp when there was public outcry over whether her position would remain. At the time, Silver Dollar City also bended to pressure from concerned citizens who protested about some of the proposed development and attractions at the now privately owned park, particularly opposed to a "Spirit of Adventure" water ride (which reminds me of my own concerns posted here in years past about Snow Mountain and Geyser Towers). Knowing the park opened on the centennial of Abraham Lincoln's assassination, on April 14, 1965, I must note that, coincidence or not, under the park's new owners in 1998, the laser show resumed projection onto the Confederate carving on the mountain's north face on the weekend of the 30th anniversary of Dr. Martin Luther King, Jr.'s assassination. 
Her decades-long tenure at the carillon's console is certainly remarkable, but what's even more refreshing to me, especially as the park's and city's narratives feel so steeped in patrician lore and Civil War myths, is that a woman of her estimable musical and educational background has figured in so much of the mountain's recent history—and she has added beauty and peace with her "Sharp" notes and vast repertoire—from "Edelweiss" to "Ave Maria" and "Phantom of the Opera" and much more— to this corner of Metro Atlanta and to a park with such a complicated history. Pre-recorded music could simply never replace Mabel Sharp, though it does during the week, as she only plays her free live concerts on weekends. It has been no small asset, though, that a spry engineer such as Mabel has had her nimble fingers on the keys and her gentle feet on those pedals all these years and that she has been able to truly teach park visitors about the carillon.
Praise for Mabel Sharp
"The carillon 'island' is my favorite place to visit in the park!" said Tara Mahoney, who grew up not far from the park and now lives in Madison, GA.
"She is truly a treasure! I used to call her from the riverboat at work to make requests. And she always obliged," recalled Davey Mills, a former riverboat operator during high school, who now resides in Asheville, NC.
"We love to watch Mabel play and walk to the carillion! Magical!" said Kari Loomis of Pine Lake, who visits the park often with her autistic son.