"Let freedom ring from Stone Mountain of Georgia!"
— Martin Luther King, Jr.
Several years ago I moved back to Atlanta from New York, and found myself climbing Stone Mountain an awful lot for exercise and head-and-heart-clearing goodness. I actually grew up in Stone Mountain, and what amazed me most upon my return to the mountain itself after years away were the people I began meeting there from all over the world. It wasn't this diverse when I was younger, so I was absolutely moved by what appeared to be the mountain's transformation from the infamous 20th Century rebirth place of the Ku Klux Klan, 101 years ago this year, into such a stunning ethnic mosaic of so many new faces. Last summer alone, fifty-two years after the Civil Rights Act was enacted in 1964, I made the acquaintance of people of many faiths from countries such as Ethiopia, Mexico, Colombia, Somalia, India, Pakistan, Nepal, Guatemala, Vietnam, Cambodia, Israel, Saudi Arabia, Haiti, Afghanistan, Iran, France, Japan, Guyana, Venezuela, Kenya, Moldova, Kazakhstan, Bangladesh, England, South Sudan, refugees from Myanmar that had been living for years at a camp in Thailand, a young man of Mexican and Palestinian descent, and scores of fascinating Americans from all walks of life—and still many more!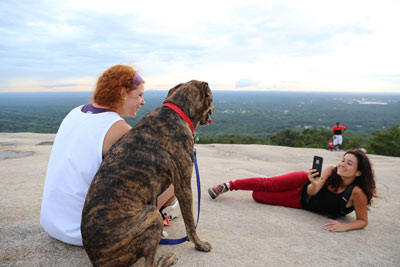 Increasingly, I felt an urgent desire, even a responsibility, to show the world this multicultural mountain that's flourishing on top of one of the world's largest exposed granite outcropping, a rock that still symbolizes Southern racism at its worst for many. When it came time to build a website as my final project for the web design certification program I was enrolled in at Emory University last year, I set about creating a digital experience of the mountain's inspiring transformation. I hope this site, which is fully responsive and incorporates the latest HTML5 and CSS3 standards, offers some long-overdue healing and catharsis, raises awareness of other cultures, and encourages more dialogue among all kinds of people, so that humanity's colorful mountain remains passable. Maybe it will even rebrand the negative way some still view Stone Mountain. Even better, maybe one day soon, the mountain could boast a marker acknowledging Dr. King's wish for freedom (and, why not, markers at all of the mountains and molehills he mentions in his great speech).
WHAT'S IN A NAME?
The first seven letters of I AM THE MOUNTAIN spell I AM THEM. I am them: I am each and every person who has generously participated in this project about the diverse people of the world that climb Stone Mountain, just as they are me, and we are ultimately one.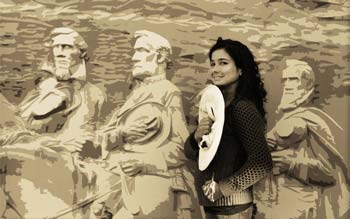 By the lottery of birth, Shannon Byrne grew up in Stone Mountain, GA, and always believed she was half Mexican, a quarter English, and a quarter Irish until she took a DNA test in April 2015 (and another one shortly after to compare the results). She never missed a single day of elementary school or high school (until her senior year, when she received special dispensation from the principal to miss 20 whole days to ride across the U.S. on the inaugural Earth Train, along with 250 other teens from around the world, to teach environmental education to youth (she recycles to this day). Her first job at sixteen was as a skater inside a price club warehouse on Memorial Drive in Stone Mountain (now a storage facility), where, among other things, she skated around for 6-8 hours offering customer service and used a walkie-talkie to radio in SKU numbers. She received a B.A. in English from the University of Georgia, and while in Athens worked as a dishwasher, waitress, newspaper correspondent, a hotel concierge, and as a manager of a Mexican restaurant. Ten days before the turn of the 21st Century, she bought a one-way ticket to New York on now defunct AirTran for $89, and with $400 and a suitcase to her name (not even a winter coat), hit the streets of New York and got her first big girl job as a book publicist at a major book publisher. In true Southern Gothic style, she was called back home to Atlanta several years later due to a death in the family. She later set up shop as a freelance book publicist, and when she's not working, she makes up for all of those days she never missed in school and is often traveling or taking classes in everything from trapeze, sewing, wilderness survival training, clarinet, and most recently web design. She knits, enjoys bold roast coffee, is a formidable Scrabble player, loves her cats, is excellent at parallel parking, has still never had a cavity and is an avid hiker and traveler. And when she isn't in a position to travel, she tries to find the world all around her and travels in place and back in time, including researching history, genealogy and her ancestry. She is often climbing Stone Mountain, where she is the "mayor" of the summit, the walk-up trail, the 5-mile loop around its base, and even Stone Mountain Park itself on the social media app Foursquare/Swarm. But she climbs other mountains in Georgia, too, such as Blood Mountain and Yonah Mountain and continues to venture beyond. She scaled Half Dome in Yosemite National Park for her 40th birthday and hiked the Southern Presidential Peaks in the White Mountains of New Hampshire in 2016 on a guided REI adventure trip.