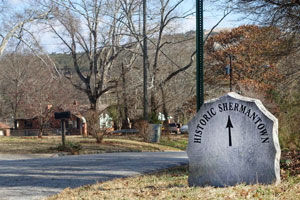 Shermantown is the historic African-American community located in the City of Stone Mountain. Sometimes on my way to climb the mountain, I hang a right on Fourth Street and drive through it to marvel at the old churches and cemeteries and to see what changes may have been made ever since my research turned up a Community Assessment Report on this section of Stone Mountain that suggested revitalization of the area was projected between 2005-2025.
Around December 2014, I noticed the laying of ground and building of what I now know will be an 80-room retirement community opening in October 2015 at Fourth and Venable St. called The View. It is in the same location where the Victoria Maddox Simmons equalization school was erected in 1956. According to historian David Rotenstein, of The History Sidebar blog, "Equalization schools were the South's futile attempt to cling to Jim Crow segregation. They were built throughout Georgia, South Carolina, and other Deep South states as a last ditch effort to forestall court-ordered public school integration. According to Georgia architectural historian Steven Moffson, his state had the greatest number of schools built to preserve the separate but equal doctrine that ultimately was dismantled under the 1954 landmark Brown v. Board of Education Supreme Court decision."
The View is not the kind of development that was mentioned as a possibility in the original assessment report, and another big lot across from it still remains vacant, with many dilapidated homes along Fourth Street lending the feel of a ghost town, especially with the spectre of the Venable name still looming large on the street sign. I do hope that a new square for community gatherings may yet be in the works for these residents according to the report.
Photos of Shermantown, December 2014 - present: