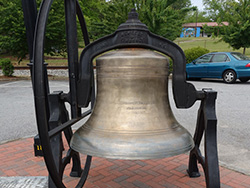 When I began this website in the summer of 2014, it was a far-off dream that sorely needed changes would be made at Stone Mountain—that the site would be "a stone of hope" hewn out of "the mountain of despair." People of all races and religions and nations from around the world visit this geologic wonder that still just so happens to be an official monument to the Confederacy ever since the early 20th Century. It was also the birthplace of the Second Era KKK 100 years ago this November 25, before the State of Georgia bought the park and its lands from The Venable Family in 1958. New urgency to properly educate people about the odious meanings of Confederate symbols and offer a more comprehensive, inclusive history of Stone Mountain—a history far predating the Civil War by tens of thousands of years!—presented itself when it came to tragic light in 2015 that white supremacist killer Dylann Roof had visited similar Confederate memorial sites for inspiration (it is still conspicuous that Roof was apprehended in Shelby, NC, the hometown of Thomas Dixon, the author of The Clansmen, on which the movie "Birth of a Nation" was based). How then could I not be excited to see the headline: "A monument to MLK will crown Stone Mountain" today? Could it truly be that, at last, "the sons of former slave owners [are] sitting down together at the table of brotherhood?"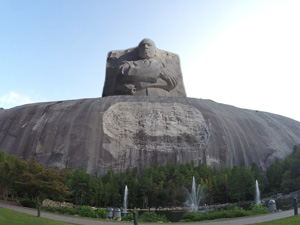 Here's what it comes down to. I have long worried that Stone Mountain Park outright fails at its job as any kind of reliable gatekeeper of history. After all, in 1998, the for-profit park gave a 50-year lease to a themed-entertainment company, Herschend Family Entertainment, which also runs other U.S. theme parks and water parks, such as Dollywood and Silver Dollar City, to oversee the attractions at the park, replete with a Ride the Ducks tour. The park also boasts one of the largest Fourth of July fireworks extravaganzas in the country, and yet it is quite ironic projecting dancing patriotic lasers on the faces of three Confederate generals, since the Confederates were at war with the one and only United States of America. So, of course, I'm quite concerned about the possible Disneyfication and commodification of a Dr. Martin Luther King, Jr. monument at Stone Mountain, however long overdue such a monument may be. Ask yourself: "Who should tell history?" Face it. I do not think an entertainment company should be our narrator. Stone Mountain Park simply doesn't have the chops or trusted reputation of, say, the National Park Service or the official Georgia State Parks system to administer and re-contextualize history. History has always been about storytelling, but those without the power or means to write their stories, or ever gain an audience to be heard, run a far greater risk of being forgotten, misrepresented, or entirely left out of history altogether. Stone Mountain is a perfect example of a place guilty of only telling, and retelling, just one chapter of the mountain's history, precisely because the owners of the park at the time the carving was erected had the power, money, and white supremacist agenda to do so.
"No man is an island,
Entire of itself,
Every man is a piece of the continent,
A part of the main.
If a clod be washed away by the sea,
Europe is the less.
As well as if a promontory were.
As well as if a manor of thy friend's,
Or of thine own were:
Any man's death diminishes me,
Because I am involved in mankind,
And therefore never send to know
for whom the bell tolls;
It tolls for thee."
—John Donne
It is already bad enough that all visitors driving into the park, whether they are aware of it or not (I'm guessing they're not) are paying for the upkeep and maintenance (whatever that entails—time to sweep out Traveller's nostril!) of the Confederate carving and the Confederate "flag terrace" at the base of the walk-up trail through entry and parking fees. A basic membership at Stone Mountain Park is really just a parking pass. Most people in the community just want to climb the mountain or hike on trails for exercise, fresh air, or fellowship, but I'm sure many would be surprised to find out they've been financially supporting the Confederate memorial all this time, even if they're against such a thing. Now, with what feels like a perfunctory proposal for an exhibit about black American Civil War soldiers and the monument to Dr. King ("Specifically, an elevated tower — featuring a replica of the Liberty Bell"), I suspect Governor Nathan Deal and the park may be feeling this will be enough to mollify its critics. And, guess what? Now the park can justify the parking fees to anyone that objects to their dollars going to maintain the Confederate memorial, because the parking fees will now also go to the Dr. King monument and the proposed exhibit about black soldiers, both Union and Confederate. The park should honestly allow people to choose whether they want to be "memorial members" and should strongly consider offering a different parking system altogether through a private third party, especially for those that only want to climb the mountain. Mount Rushmore not only allows people to choose whether they are members of the Mount Rushmore Society, but they also use an independent parking company, even though they are a part of the National Park System. As it stands, walking into the park is the only way to avoid paying to support the memorial, unless, of course, you live in the community and your tax dollars have been supporting it.
Since this AJC article broke on the eve of Columbus Day, or Indigenous Peoples Day, allow me to ask where is there more historical information about the Moundbuilders and Woodland Indians that inhabited villages at the base of Stone Mountain once upon a time?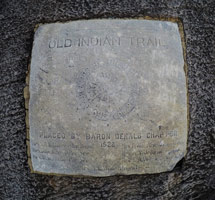 What about the very crucial meeting with Creek Indian Chiefs and Colonel Marinus Willets on top of the mountain just before the Creeks ceded all of their land to the State of Georgia via the Treaty of New York and Treaty of Indian Springs? Where can visitors learn more about how the mountain was a sacred throughway for Creek and Cherokee Indians or about the sacred ceremonies once held on top of the mountain? What about the controversial Effigy Boulders that Dunwoody high school teacher Greg Seals writes about in his self-published book (see images below)? Are they real, and if so, shouldn't the park do something to honor or preserve them? It is truly unfortunate that really nothing was done to preserve any vestiges of the Native Americans' presence on the mountain when the railroad and quarries came to town and when carving on the mountain first began. The park does charge admission for a highly commercial Indian Festival and Pow-Wow with numerous vendors one weekend each year (see images below).
Some images from the 2014 Indian Festival and Pow-Wow at Stone Mountain Park:
And where are the details about the Spanish explorer, Juan Pardo, who first visited the mountain? Where can we please learn more about Leo Frank, the Jewish man killed by some of the very men who anointed themselves among the first members of the KKK at the mountain? Why not curate a much needed Civil Rights exhibit at the mountain instead of (or in addition to) an exhibit which, let's be honest, seeks not really to honor black soldiers but rather to implicate them in the same war as their white agitators for the protection of slavery? Why not an exhibit about nearby Shermantown in the Village of Stone Mountain, which actually did figure in the Civil War, whereas the mountain itself did not? I KNOW WHY. Churchill said "history is written by the victors," and if that's the case, as exemplified by the carving on Stone Mountain and the park's long lack of inclusion of Native Americans, blacks and Jews in its history through its exhibits, literature and website, we all actually lose out on a wonderful array of voices and experiences which society greatly needs to continue to sort out, reconcile, and hopefully grow from the past. George Orwell warned, "The most effective way to destroy people is to deny and obliterate their own understanding of their history." Taking away and whittling down the land, language, stories, and customs of entire cultures and communities comes to mind. Malcolm X knew: "History is a people's memory." Mark Twain agreed: "The very ink with which history is written is merely fluid prejudice." And Harlem Renaissance writer Dorothy West is on the books saying, "There is no life that does not contribute to history."
King wanted unity, brotherhood, and to be a part of America, so he might actually support such a "monument" at Stone Mountain? Read King's "Letter From a Birmingham Jail" for more insight.
I am not sure how Dr. King would feel about the Confederate flags flying at the base of the mountain with a monument to him in the form of a bell at the top. Would he ask for whom this bell tolls? Will it toll for thee? Why have the powers that be chosen not to carve an actual likeness of Dr. King on the mountain? But I am ever hopeful that the move to make such an addition to the mountain itself, and therefore to its story as a whole, might bode well for the countless other chapters that have been left out of it, too. "An elevated tower" with a Freedom Bell and proposal for a new exhibit is still better than nothing at all, but I am only cautiously optimistic that an entertainment company will be able to install such a monument with the utmost sincerity and historic integrity. I hope that Stone Mountain Park will improve its role and responsibility to educate its visitors about the mountain's long history. Sometimes I think that only the National Park Service can restore dignity to a natural wonder like Stone Mountain, long held hostage by old politics and the spectre of the Klan.
Sadly, I just learned that the Klan and more protectors of the Confederacy will gather yet again at the mountain next month, almost 100 years to the day of their 20th Century rebirth at the mountain. This is disgusting and frightening that this could still be happening in 2015, especially at a place that has evolved within the last few decades into such a multicultural destination. Here is an article from the Southern Poverty Law Center.
---
Local self-published author Greg Seals believes these are Effigy Boulders sculpted to resemble various animals by "Native peoples of Stone Mountain."