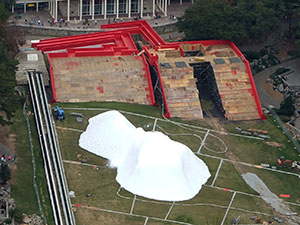 I never forgot the time I took a hot shower in Caracas, Venezuela and accidentally used my host family's entire water supply for the week. They were so nice about it. I still have a small string of pearls they gave me when I left. Talk about being 19 years old and taking for granted living in a country where natural resources and most everything else were mostly readily available and plentiful. Twenty-one years later, we know it's precariously less than plenty. I stood at the top of Stone Mountain the other day and noticed a big pile of snow being made by a snow machine down below. It suddenly looked like a whole lot of showers. "Spend a fun-filled day playing across five football fields of frosty joy," boasts Stone Mountain Park's website promoting their upcoming attraction Snow Mountain. I realize I sound like a wet blanket – of snow – but it absolutely boggles the mind that the Laser Show lawn will transform into an approximately "1.2 million gallon mountain of snow" for 100 days beginning November 21, 2015 through February 28, 2016. FOR RECREATIONAL PURPOSES.
Never mind that the Tri-State water wars among Georgia, Alabama, and Florida have been ongoing for over 20 years (a plan for sustainable water management was just announced). Or that Greenland is melting. And California is dangerously parched, with everyone that eats its produce the world over contributing to that thirst. That the Persian Gulf may be too hot to inhabit by 2100. Or NASA's prediction of an imminent 35-year "megadrought" in the U.S. Southwest. Snowpack on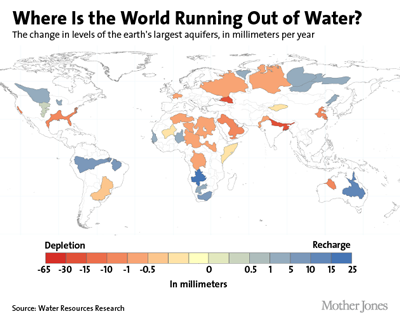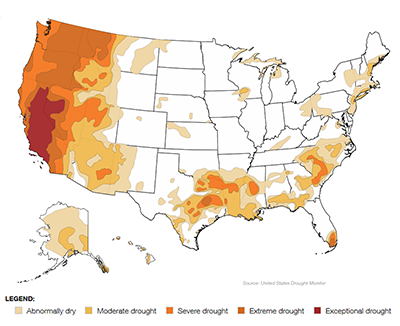 mountains in the West has been greatly reduced by climate change, and wildlife continues to suffer dramatic consequences. And, yes, it won't surprise you that water (and most everything else) is even more rationed in Venezuela (all these years later I still have a couple of bolivares that American banks won't exchange, and there's a bitcoin scandal sweeping that country).
Snow Mountain first opened in 2009, and like many consumers that often don't think twice about offerings from big and generally trusted companies in their own backyards ("global warming is happening somewhere else," we tell ourselves), I went and had a grand ole oblivious time. Six years later, I'm scratching my head. Have millions of gallons of water really been used FOR RECREATIONAL PURPOSES? I picked up the phone. Even though a friendly public relations rep at the park assured me that no municipal water from the Dekalb County Department of Watershed is used to make the snow, I cannot, in all good conscience, go to Snow Mountain ever again—and certainly no water or snow park, anywhere—while environmental crisis and drought ravages the globe. That's right; I'm no fun.
So how is the snow made? The water is pulled from the private 323-acre man-made Stone Mountain Lake within the park (not the smaller lake at the park, Venable Lake, named by the former owners of the land when the Klan was active there from 1915-1958). The water is then treated at an inconspicuous plant next to the Laser Show lawn and "made potable" in a secret "closed-loop patented process" that involves "no chemicals or chlorine." The water, along with pressurized air, is forced through a series of irrigation tubes resulting in lots of snow. You can eat the snow, I'm told. The snow naturally melts some each day and returns to the lake by way of a drainage liner. The same treatment process is used for the Geyser Towers splash pad ropes course at Stone Mountain Park in the summer. I am not sure how much energy use is involved in this process, but I suspect it's quite a bit and not cheap. I have not confirmed whether the park receives any "green energy credits" for this process of regularly borrowing and returning water to its lake. It is worth noting that boating and fishing are allowed on this lake with the proper permits but swimming is not (quite frankly, it seems to me this lake goes through so much that choosing not to swim seems wise). The park's website states, "Our greatest concern is for the safety of our guests. Because Stone Mountain Lake is a large, urban lake, it is subject to water quality issues, especially in the summer when high temperatures or heavy rain can drastically affect the water quality. Because real-time water quality tests are not available, we simply do not permit swimming in the lake." Sadly, a teenage boy of Nepalese descent drowned in Stone Mountain Lake just this past April.
But you can bring a gun to the park, since it is state land, as did some Confederate flag enthusiasts in an appalling display over the summer, and state law apparently still protects the right of a known hate group that plans to march at the park next month in protest of the proposed monument to Dr. Martin Luther King, Jr., on the mountain. I was under the impression that when the State of Georgia bought the land from the Venables/Klan in 1958, the land was specifically condemned in order to nullify an easement that would've still allowed the KKK to meet at the mountain even after the sale. So, again, I don't understand why any chapter of this or any other hate group would be allowed to gather here now, state land or not. Especially when such a gathering will fall so close to the centennial of the Second Era Klan's declaration on the mountain back on November 25, 1915. Yuck. Yuck. Yuck. Terribly wrong.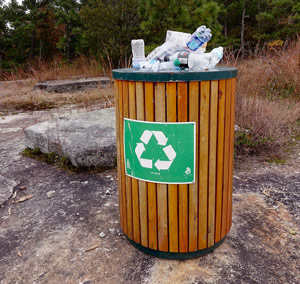 With such controversy about the proposed MLK "Let freedom ring" bell and continued debate about the Confederate carving and Confederate flags at the park, do you see how easily the environmental impact of Snow Mountain, Geyser Towers, and the recycling on the mountain proper and within the park as a whole could go unnoticed or just get buried? Last month the Stone Mountain Memorial Association (SMMA) actually asked a group of loyal recyclers to cease their efforts of picking up and hauling away the plastic recyclables on the mountain, after they'd been doing so nearly daily for seven years. I wrote about the Mayers and several other such volunteer stewards of the mountain just last year on my website. Out of nowhere they were suddenly told that their organized effort posed a liability to the park, and even though the Mayers offered to indemnify them, it made no difference. Not even a thanks for what they've been doing —not that that's why they were ever doing such a positive thing. The SMMA told them they would begin handling it themselves from now on, and yet, I have seen more overflowing recycling receptacles and litter on the mountain than ever in the weeks since the Mayers were unceremoniously dumped. A group of indefatigable volunteers still continues to pick up trash on the mountain, because it's in their nature to keep doing it. Are they a liability, too? Isn't anyone walking the mountain a liability? I saw a guy in stretcher carried off the mountain just two weeks ago (yes, of course I took photos, with permission of the fallen). Who holds Stone Mountain Park accountable for environmental responsibility? The state? It's corporate sponsors and partners? Or the public? At least four-million annual visitors from all over the world no doubt generates mountains of waste. It's time to set a good example and roll out an environmental initiative for the public to see, Stone Mountain —without such a plan, actually, you pose the greatest liability.
An unseasonably warm December impacted the Snow Mountain attraction.