66 years ago today, 48 year-old author Margaret Mitchell passed away at Grady Hospital five days after being struck by a drunk driver on Peachtree Street as she and her husband, John Marsh, crossed the road to see the 1944 film "A Canterbury Tale" at the now demolished Peachtree Art Theatre (for context, Prohibition in Georgia had ended 14 years earlier in 1935, and Elvis Presley was just 14 years old and would die on the same day as Mitchell at age 42 in 1977).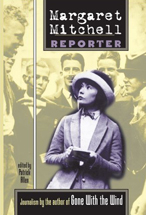 With all due respect to Mitchell, I've never read "Gone With the Wind" or seen the movie and likely never will, but I recently discovered some of her "Atlanta Journal Sunday Magazine" columns compiled in "Margaret Mitchell: Reporter" by Patrick Allen, in particular one from May 5, 1923, "Hanging Over Atlanta in Borglum's Swing," in which she fancifully wrote of dangling from six stories outside a skyscraper building (perhaps her AJC office, which she once referred to as "The Black Hole of Calcutta") to simulate the precarious boatswain chair used by Gutzon Borglum, the first sculptor hired to carve Stone Mountain:
"No, Sir or Madam!
In the immortal words of Bert Williams, 'Somebody else, not me,' is going to have to do all that carving on the side of Stone Mountain that is expected to bring into existence the world's most magnificent monument to the Southern Confederacy. As long as the trip down the side of the mountain has to be made in a diminutive swing about as large as the palm of your hand, one candidate for fame and glory has been thoroughly and completely eliminated."
[As she was pulled back up to the window trembling, the photographer of her imagination asked her to please repeat the stunt, since his camera had unfortunately jammed the first time, to which she wrote]:
"If the fate of the whole Confederacy rested on my being hung six stories from the ground again, Sherman would have to make another march to the sea!"
[...and it went on to quote the designer of the swing, Captain J.G. Tucker, Borglum's first assistant].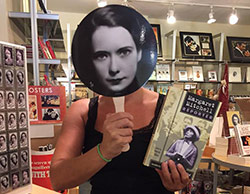 What an understatement to say that Atlanta and Stone Mountain were certainly different places 92 years ago. Georgia and the entire nation for that matter. So much so, in fact, that two days after this column, a front-page Atlanta Constitution headline about 10,000 Klansmen gathering on top of Stone Mountain appeared (the recent pro-Confederate flag rally at the mountain came to mind when I saw it). Actually, reverent stories about Stone Mountain and the imminent carving were abundant in the Twenties and Thirties – from President Harding's day well on up to when Vice President Spiro Agnew attended the official carving dedication ceremony 45 years ago in 1970 (Nixon would be busy with Watergate when the carving was actually completed in 1972). Such articles and columns – and even books like "Gone With the Wind" – that chronicled quite different times in the South, and often values and belief systems so repugnant to us now, times past that unquestionably necessitated the Civil Rights Movement to come in later decades. Sometimes the pendulum still swings backwards, but tomorrow, thankfully, is another day to carve a better future.